If you've ever drafted a travel bucket list, chances are the island of Santorini has made an appearance and rightfully so. The stark white buildings with their world famous blue domes, the dazzling views of the Aegean Sea, and expanse of multi-hued beaches make the small Cycladic island a popular destination. Santorini, also known as Thera (its classical name) and Thira (its official designation), is situated in the southern Aegean Sea about 120 miles from mainland Greece. The remnant of a volcanic caldera, it is the largest island of a small, circular archipelago and only has an area of 28 square miles; it was birthed from a destructive volcanic eruption that destroyed the earliest settlements. Despite its geological origin, what remains is sheer beauty and a thriving island culture which continues to draw huge crowds of both Greek and international travelers annually. It's no wonder–the island boasts a number of activities and sites to pique the interest of even the most well-traveled individuals.
1. Do a Little Sun-Worshipping on the Beach
One of Santorini's most distinctive features is its uniquely colored beaches–namely the red and black sand beaches that dot its coastline. The aptly named Red Beach (pictured above) is the most famous of the island's beaches with its steep, rocky cliffs, azure waters, red and black volcanic pebbles strewn along the beach. Craving a spa day? The warm water mimics that of a geothermal spring and is the perfect enticement for those seeking a little R&R in the sun.
Read > 10 Best Beaches in Santorini
2. Take a Food and Wine Tour
The cuisine of Greece and its outlying islands are world-renown and should be explored in earnest. Dining in Santorini offers familiar Greek fare like spanakopita (spinach pie) and dolmades (stuffed grape leaves), but noshing on regional dishes like domatokeftedes (tomato fritters) fava beans and kabourma (fried smoked pork) is where the real gastronomic adventure lies. Local company Santorini Wine Tour offers oenophiles and gourmands the opportunity to discover the secrets of area winemakers and chefs through a variety of its fun, interactive group and private tours. Through a partnership with some of the island's best restaurants and chefs, tourists have a chance to get their hands dirty (literally) and make an authentic Greek meal. Bonus: You not only get an authentic cooking lesson from an acclaimed chef, but you also get to eat the fruits of your labor.
Visit > Feggera Restaurant | website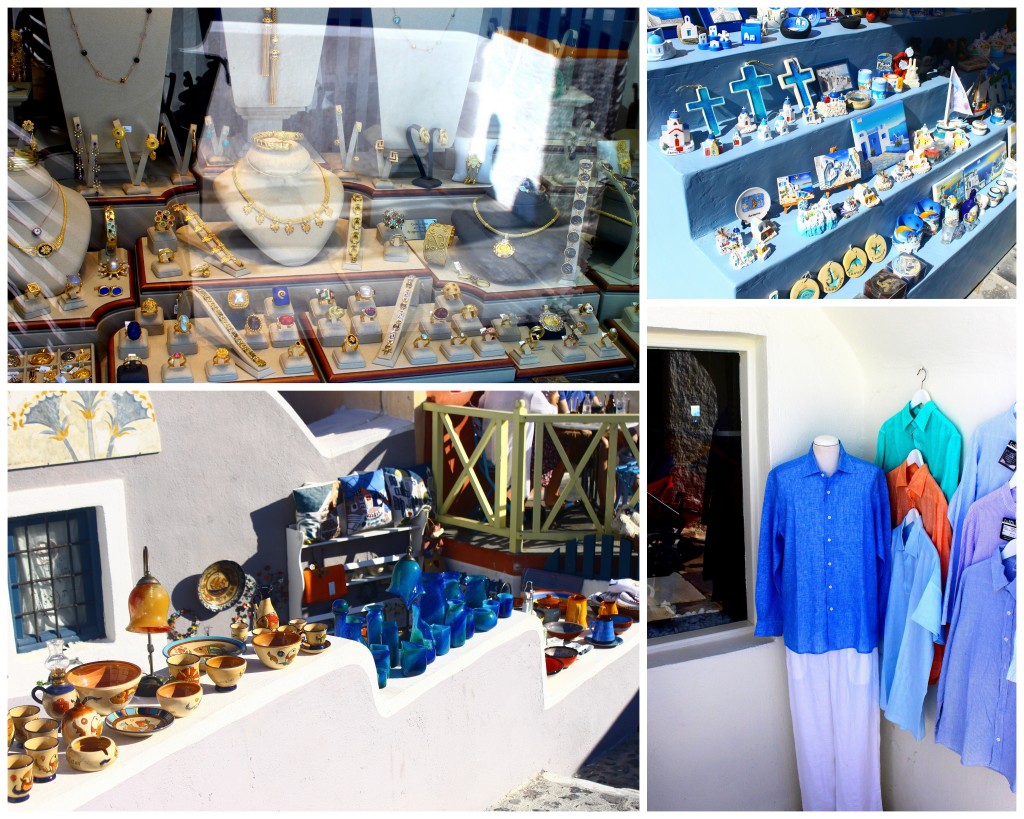 3. Shop 'til You Drop
To be certain, Santorini is a tourist haven and there are plenty of vendors hawking knick-knacks and souvenirs, but that's not necessarily a bad thing. Religious icons (a Greek staple), Santorini-branded tchotchkes, inexpensive trinkets, and food gifts are common and it's a great idea to purchase a few for not only friends and family but as a reminder of your time on the island. On the opposite end of the shopping spectrum are the high-end shops selling designer goods and clothing, jewelry stores that offer unique pieces, and original artwork dealers. It's not ridiculous to suggest bringing an empty suitcase (or, at the very least, making room in your existing luggage) to accommodate a shopping spree.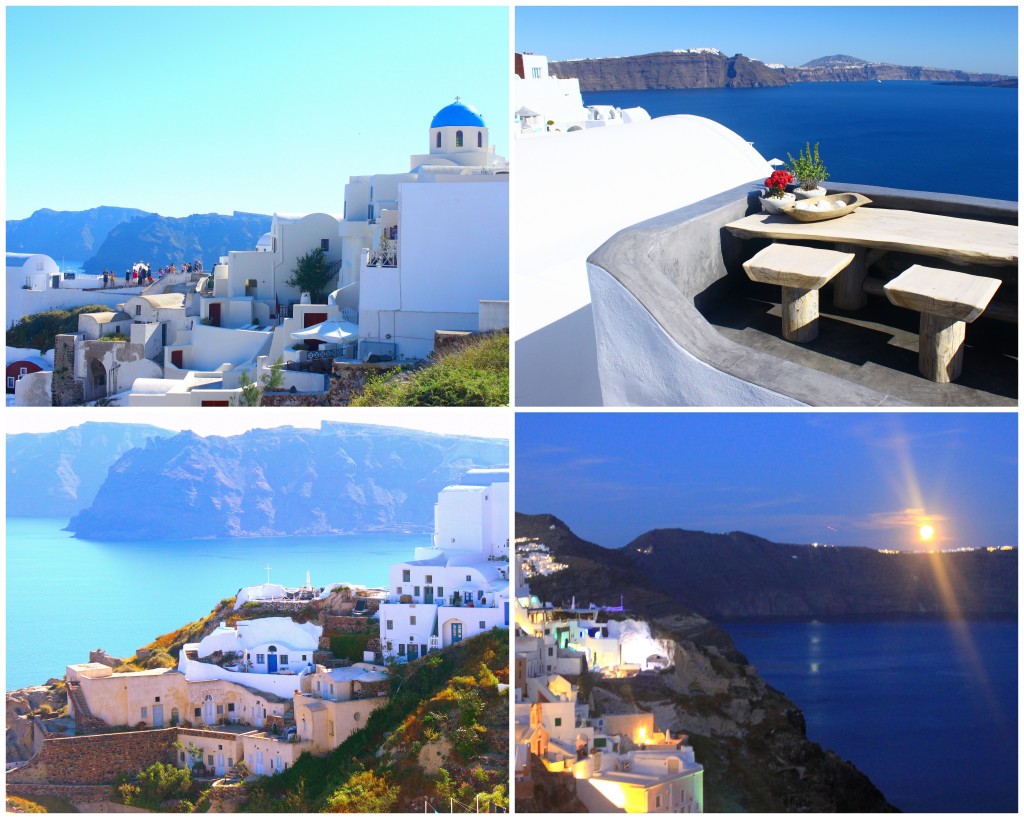 4. Take Postcard-Worthy Photos
It should go without saying that a quality camera should always be at the ready when visiting picturesque Santorini. Those pristine, blue-domed white buildings (which a 1974 edict declared must be painted white–although there are some exceptions for light pink and ochre-colored buildings) are the stuff of which photographers' dreams are made. Even if you're not of the professional ilk, there's no such thing as a bad photo of Santorini. So, snap away and don't worry about looking like a tourist–everyone stops to capture the beauty of the surroundings. (There's even a vendor who's capitalized off the selfie stick trend and sells the much-scorned gadgets for about 10€.) By the way, don't let nighttime interfere with your photo shoot–Santorini is gorgeous after sunset. And speaking of sunset…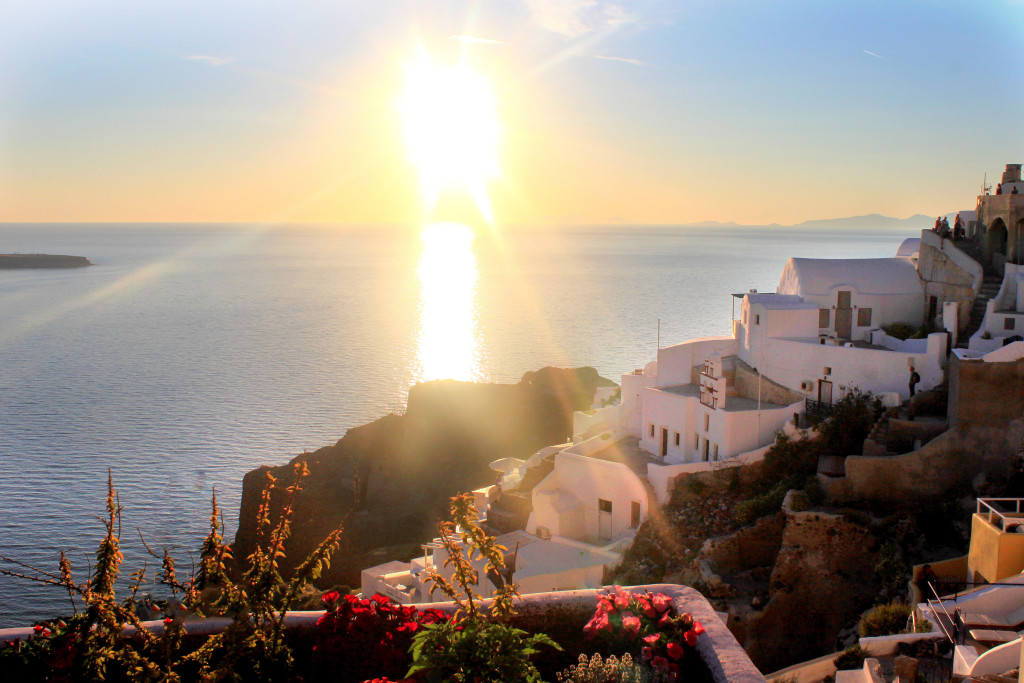 5. Cheer for the Famous Sunset
Sure, the sun sets every evening everywhere in the world but there's something special about a sunset in Santorini–specifically in the town of Oia (pronounced ee-uh) where sunset watching is so popular that both tourists and professional photographers alike visit from far-flung corners of the world to witness the spectacle. It's tradition to clap and cheer as the sun disappears on the horizon and have a drink of wine to toast the majestic sunset; there are several hillside restaurants that offer front-row seats to view the sunset. Just note that some restaurants require reservations and charge a premium for such seating.
Sunset viewing and dining > Kastro Restaurant | website