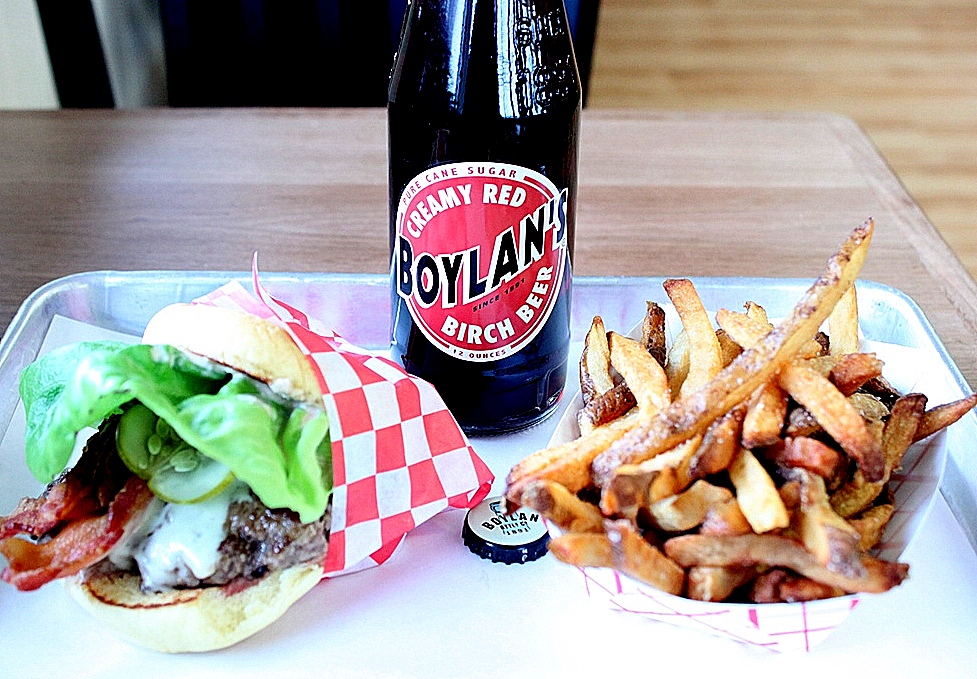 The MOINK burger, fries, and an old-fashioned Boylan soda
Ottsville.
Ever heard of it?
Probably not, but it's a destination worth plugging into your GPS.
Why?
Because it's home of one of the best burgers on the planet. Those of us who have stood in line at the MOO truck on the grounds of the Ottsville Farmers Market know just how delicious the burgers–crafted from local ingredients–are.  Now, as seems the fashion, the MOO truck has morphed into a bona-fide 46-seat brick-and-mortar restaurant (don't fret–the food truck will still be available for private events and parties).
The true definition of a locavore, owner Evan Asoudegan sources meat and produce from nearby farms and takes pride in his menu of farm-to-table delights.  The menu–oh, that glorious menu–is a greatest hits of sorts. Die-hard fans of the food truck will recognize the MOO burger (regular burger), the MOINK (regular burger plus bacon), hand-cut fries, and a rotating roster of soups and salads. Chicken burgers, chili, floats, shakes, and locally-crafted soda round out the menu.
So, if old-fashioned shakes and burgers are your thing (and, really, they should be) get your exploration on and get lost in the country for a while.  It's well worth the trip.
(And while you're there, could you pick me up a burger?)
Follow MOO on Twitter and find them on Facebook.