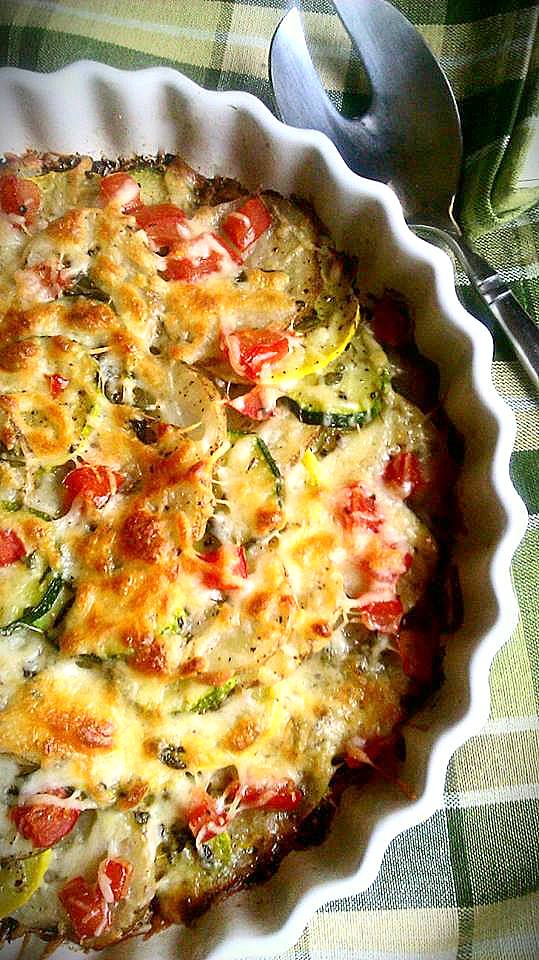 When I started this blog almost three years (wow, has it been that long?), I remember thinking that the only successful way to create a food blog was to post recipes. So, that's what I did and, a mere six months into blogging, I was bored and frustrated. Why? Because I rarely cook using recipes–I'm totally a 'pinch of this/pinch of that' girl and posting recipes every other day quickly became a bore. However, every now and then I come across a recipe that piques my interest and–oddly enough–I recently happened to find this one on Facebook of all places.
It's simple to assemble–in fact the most labor-intensive part of this recipe is slicing the vegetables and if you use a mandoline like I did (thanks OXO), even that task becomes incredibly easy. The dish is perfect for summertime meals and making it is a smart way to make use of fresh garden vegetables and herbs.
Vegetable Tian
Print recipe
What exactly is a tian? Tian comes from the French and describes an earthenware square or rectangular casserole dish. A tian can be a variety of dishes but originally referred to a Provencal-style mix of vegetables that are cooked, baked or roasted in a gratin style.
Ingredients
1 tablespoon Olive oil
1 Medium Yellow onion (minced)
1 teaspoon Garlic (minced)
1 Medium Zucchini
1 Medium Yellow squash
1 Medium Potato
1 Medium Tomato
1 teaspoon Dried thyme
1 teaspoon Fresh oregano
1 teaspoon Flat-leaf parsley
1 cup Shredded Italian cheese
Salt & pepper (to taste)
Directions
Step 1
Preheat the oven to 400 degrees F. Sauté garlic and onion in a skillet with olive oil until softened (about five minutes).
Step 2
While the garlic and onion are sautéing, thinly slice the rest of the vegetables.

**Note: I chose to chop my tomatoes and sprinkle over the dish rather than slice.**
Step 3
Spray the inside of an 8x8 square or round baking dish with non-stick spray. Spread the softened onion and garlic in the bottom of the dish. Place the thinly sliced vegetables in the baking dish vertically, in an alternating pattern. Sprinkle generously with salt, pepper, and herbs.

**Note: I did not arrange the vegetables vertically; I did so concentrically like you would with a tart.**
Step 4
Cover the dish with foil and bake for 30 minutes. Remove the foil, top with cheese and bake for another 15-20 minutes or until the cheese is golden brown.
This recipe was reprinted from Denice's Skinny Friends – Healthy Weight Loss Tips. Follow the group on Facebook for weight loss tips and healthy recipes.