As a native Delawarean, a trip to nearby Atlantic City is less than 90 miles away and is a perfect mini-getaway destination for those looking for a taste of beach, boardwalk and nightlife. Think of AC like Vegas' little cousin–if your cousin had a slightly wild, sexy side.
Last weekend I had the opportunity to take a break from my everyday life and relax a bit at The Chelsea. Normally I'm not a fan of staycations–I like places far from home and jump at the chance to explore unfamiliar surroundings and, having grown up practically in Atlantic City's backyard, I thought it was too close a destination to be exciting. I'm happy to say I was wrong.
The Chelsea is unique in that it is the only non-gaming hotel in town. If you're a high roller with a penchant for smoke-filled poker rooms and blowing on dice, this is not the hotel for you. However, if you're looking for a relaxing stay in a chic boutique hotel with a killer spa, whirlpool and lounge, you're in luck. Did I mention the on-site dining options? (I prefer room service for breakfast and it didn't disappoint–you know I'm a sucker for a good Benny.)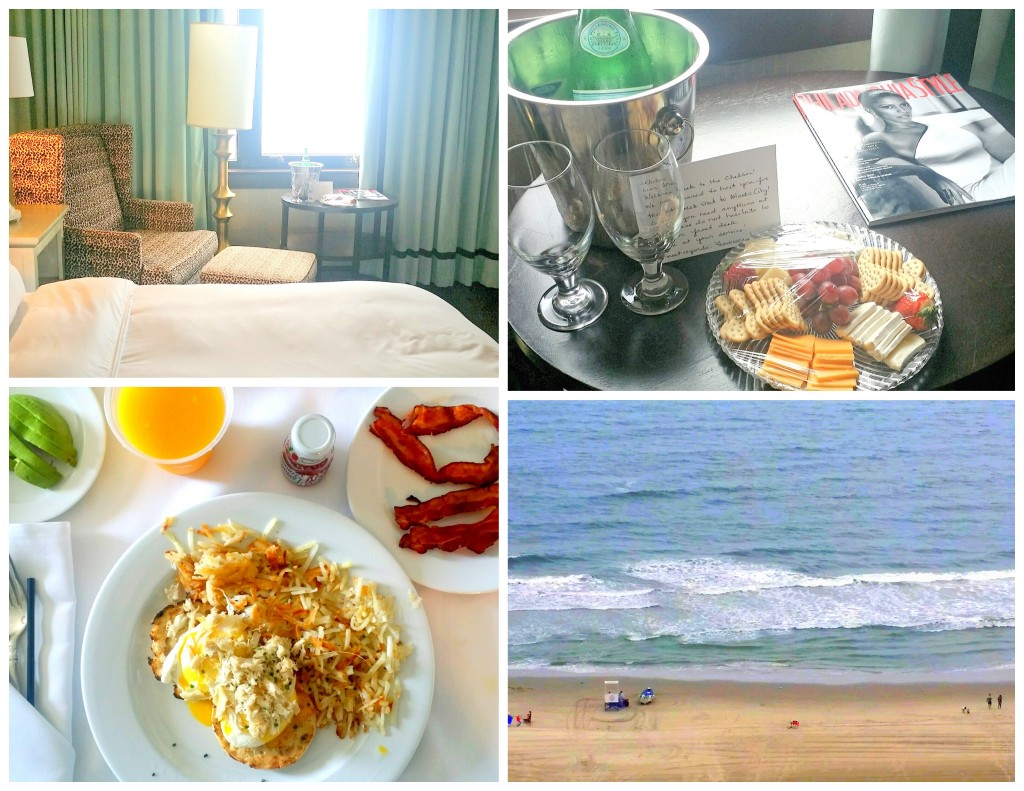 Upon arriving to my 17th floor room, the first thing I noticed was the cute, funky design elements. Ceramic bird lamps, patterned wallpaper and a plush leopard print sitting chair and ottoman (clearly a shout-out to Jersey's sartorial print of choice–just ask any Real Housewife) somehow all came together and really created a chic, modern look. Pulling back the heavy blackout curtains, I was pleasantly surprised to see that my room overlooked the ocean–talk about serenity. The weekend was off to an amazing start!
That night I had a media dinner scheduled at Sammy D's at Harrah's which knocked my socks off with its revised summer menu. (Stay tuned for more on that in a later post.) After a multi-course dinner and engaging conversation with some of the area's most notable journalists, I ignored the siren call of Harrah's casino bells and jackpot whistles and high-tailed it back to my peaceful environs at The Chelsea–after all, I had a long day of…absolutely nothing planned ahead of me. Well, that's not entirely true–I did have a deep tissue massage and some time in the whirlpool scheduled. I know, I know–it's a tough life.
As promised, the next afternoon I headed to the ground-floor Sea Spa–a 10,000 square-foot luxury oasis complete with 10 private treatment rooms (including a couples' room), a saltwater pool with an adjacent outside pool and the Solarium–a combination co-ed Jacuzzi, sauna and steam room. To say that my treatment and subsequent dip in the saltwater pool was relaxing in an understatement. Have you ever had a massage and drifted off to sleep only to be awakened by your own snoring? (Guilty.)
After feeling completely pliable and relaxed, I headed back to my room, took a shower and hit the boardwalk for a stroll and it was different yet familiar at the same time. The sights and smells were just as I remembered but something had changed. Atlantic City was like a teenager who had grown out of its awkward stage; there was a calming maturity that made me view the place in a whole new appreciative light. For nostalgia's sake, I had to grab a few boardwalk treats and take a walk on the beach and soak up some of that gorgeous sunlight that had managed to keep the rain that threatened to ruin the weekend at bay.
As I walked along the beach, I forgot that I wasn't on sand in some far-flung destination and that I didn't need to hop on a plane or take a 14-hour road trip to get away from it all. As I let my mind wander, I realized that a staycation was exactly what I needed and I didn't have to search high and low to find it; it was right around the corner all along.