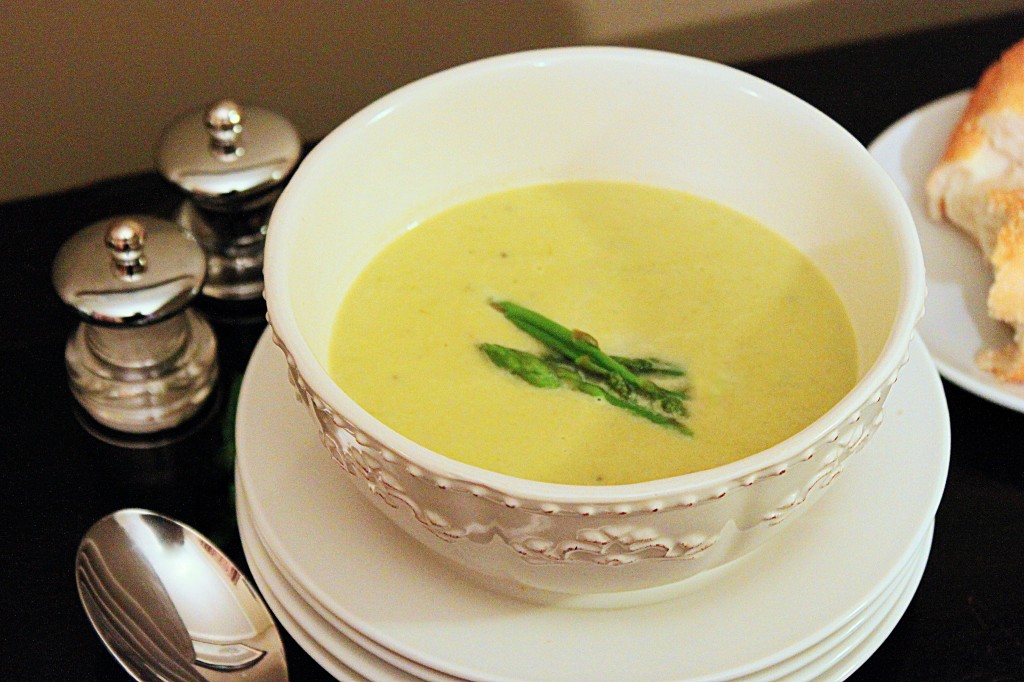 My love of soup is legendary.  I'm a soup fanatic and I could eat it just about every day of the week.  In fact, my love for the hot stuff is only rivaled by my love of ice cream.
Wait.
I just realized something.  Maybe I just have a thing for food I can eat out of bowls.
But that's another story for another day.
As usual, I recently bought way too many groceries and found myself with an abundance of asparagus, onions, and lemons which seems like a random bunch of ingredients until you consider that with the addition of butter, chicken stock, and heavy cream, you've got yourself a pretty kick ass asparagus soup.
Now do you see the method to my madness?  I thought so.
Cream of asparagus soup is truly a soup for all seasons because of its ability to be served hot or cold.  Personally, I'm a fan of the hot version–it's amazingly comforting on a cold night.
Cream of Asparagus Soup
Recipe Type
:
Main, Appetizer
Author:
Prep time:
Cook time:
Total time:
Asparagus is a pretty versatile vegetable but is usually relegated to a supporting role as a side dish. It takes the spotlight in this soup and really shines as the main ingredient.
Ingredients
2 pounds green asparagus
1 large onion, chopped
3 tablespoons unsalted butter
5 to 6 cups chicken broth
1/2 cup crème fraîche or heavy cream
1/4 teaspoon fresh lemon juice, or to taste
Salt and pepper
Instructions
Cut tips from 12 asparagus (1 1/2 inches from top and halve tips lengthwise if thick); reserve for garnish.
Cut stalks and all remaining asparagus into 1/2-inch pieces.
Cook onion in 2 tablespoons butter in a 4-quart heavy pot over moderately low heat, stirring, until softened. Add asparagus pieces and salt and pepper to taste, then cook, stirring, 5 minutes. Add 5 cups broth and simmer, covered, until asparagus is very tender, 15 to 20 minutes.
While soup simmers, cook reserved asparagus tips in boiling salted water until just tender, 3 to 4 minutes, then drain.
Purée soup in batches in a blender until smooth, transferring to a bowl (use caution when blending hot liquids), and return to pan. Stir in crème fraîche, then add more broth to thin soup to desired consistency. Season with salt and pepper. Bring soup to a boil and whisk in remaining tablespoon butter.
Add lemon juice and garnish with asparagus tips.