Herbs like the ones pictured above are ideal for an indoor kitchen potager
FRENCH LESSON
The potager (po-tuh-zhay), or kitchen garden, originated in France over a thousand years ago where it served as a supplement to a family's main garden. Derived from the French word for a "soup of broth and vegetables," many potagers were cultivated for culinary purposes. Monks were also known to construct monastery herb gardens for their healing properties. Today, the kitchen potager is enjoying a resurgence as chefs, gardeners and home cooks are once again discovering the usefulness of these gardens.
The beauty of potagers is their versatility–they can be grand, large-scale affairs or small indoor endeavors. The indoor potager is especially useful for its yield; herbs and even vegetables and fruits can be cultivated indoors. Herbs like basil, chives, and oregano (in addition to a variety of others) are ideal small-container plants that can be snipped or picked and added to dishes for a fresh, vibrant lift. Dwellings and kitchens short on space can benefit from these high-yield working gardens.
HERB IS THE WORD
Certain herbs grow better than others and, based on the chart above, here is the best way to grow them*:
Basil – Should be started from seeds; place the pots in a south-facing window as this herb thrives in sun and warmth.
Bay – Perennial that grows well in containers year-round; place the pot in an east- or west-facing window away from the crowd of other plants as this plant needs plenty of air circulation to thrive.
Chervil – Seeds should be started in late summer; grows well in low light but needs temperatures between 65°F and 70°F to thrive.
Chives – Plant should be broken off from a starter plant at the end of the growing season and potted; leave pot outside until leaves die and, in early winter, move pot to the coolest spot indoors for a few days then move to the brightest window.
Oregano – Best started from a cutting of an outdoor plant; place pot in south-facing window.
Parsley – Can be started from seeds or dug up from the garden at the end of the season; likes full sun but will grow slowly in an east- or west-facing window.
Rosemary – Start with a cutting and keep it in moist soilless mix until it roots; grows best in a south-facing window.
Sage – Take a tip cutting from an outdoor plant; tolerates dry, indoor air well, but needs the strong sun it will get in a south-facing window.
Tarragon – A dormant period in late fall or early winter is essential for tarragon to grow indoors; pot up a mature plant from your outdoor garden and leave it outside until the leaves die. Bring it to your coolest indoor spot for a few days, then place it in a south-facing window for as much sun as possible; feed well with an organic liquid fertilizer.
* Growing tips from Organic Gardening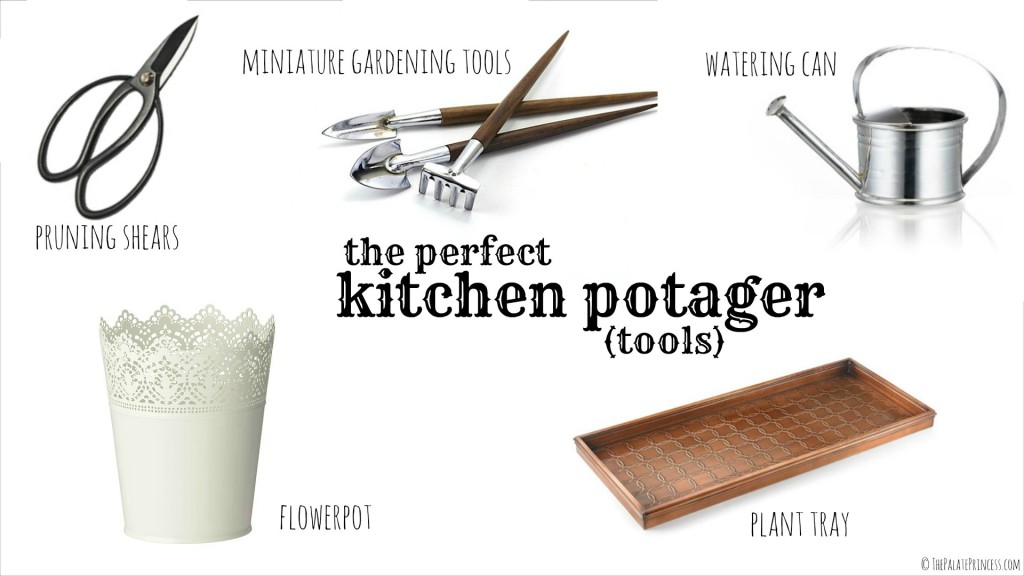 TOOLS OF THE TRADE
To get your space ready for your new potager, you'll need some essentials like the ones pictured above. To give your herbs an extra boost, you may need to purchase some plant nutrients as well. Enjoy your new garden and the difference the addition of fresh herbs makes in your cooking!