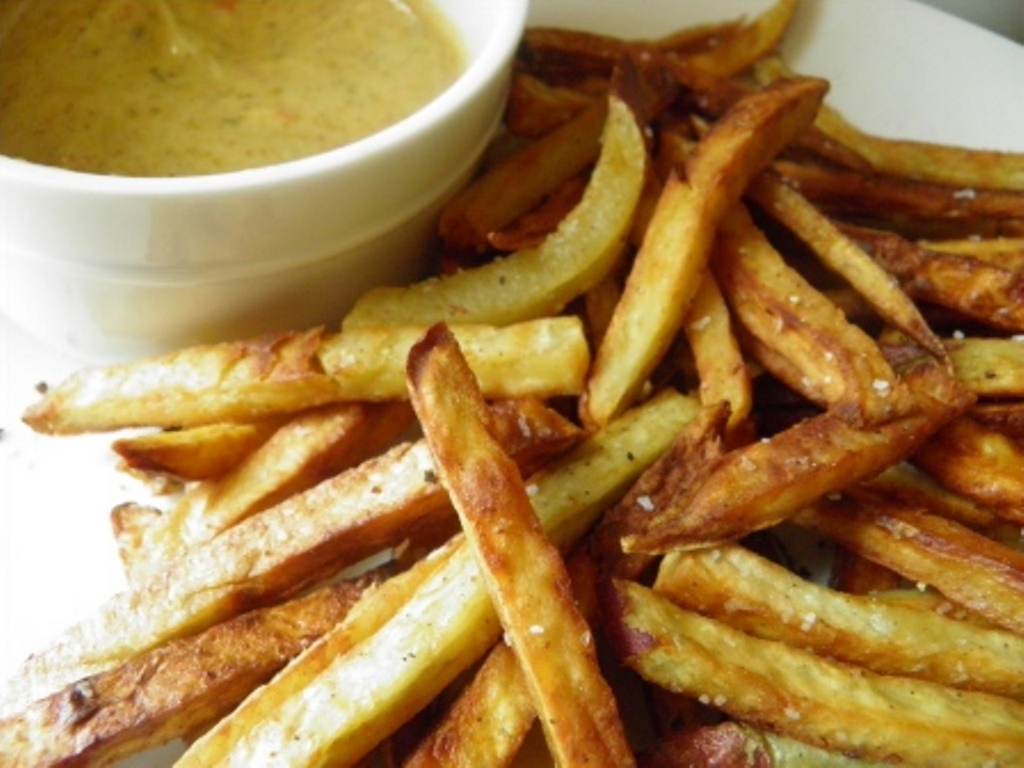 There are few things more satisfying than hand-cut fries (or pomme frites as our beret-loving, ketchup-hating friends across the pond call them).  Something magical transpires when those beautifully starchy matchsticks hit hot oil–leaving their skins slightly wrinkly but crisp.   When paired with a simple aioli–well, that just elevates the dish to something phenomenal.
The preparation is easy and the result is delicious.
Recipe Type
:
Snack, Side Dish
Author:
Prep time:
Cook time:
Total time:
Ingredients
For the aioli:
½ c. mayonnaise (not salad dressing)
¼ c. lemon juice (preferably freshly squeezed)
1 tbsp Dijon mustard (I prefer La Maison Maille)
1 clove finely minced garlic
Lemon zest
Freshly chopped parsley
For the pomme frites:
2-3 large potatoes cut lengthwise (I used a mandoline to make perfect matchsticks.)
Canola or peanut oil for frying
Kosher salt
Freshly cracked black pepper (optional)
Instructions
For the aioli:
In a bowl, whisk together all ingredients. Cover and chill until ready to use.
For the pomme frites:
Wash potatoes and cut lengthwise. Place in a bowl of salted water. (This will take some of the starch out so they don't stick together during frying and it will keep them crispy.)
Pour oil in medium-sized heavy-bottomed pan (enough to cover potatoes). Heat on medium-high. Once the oil is very hot, drain potatoes and dry with a paper towel and begin to fry.
Once the pomme frites are golden brown, remove from pan and drain excess oil by placing them on a paper towel for a few minutes.
Sprinkle generously with kosher salt and serve immediately with aioli.