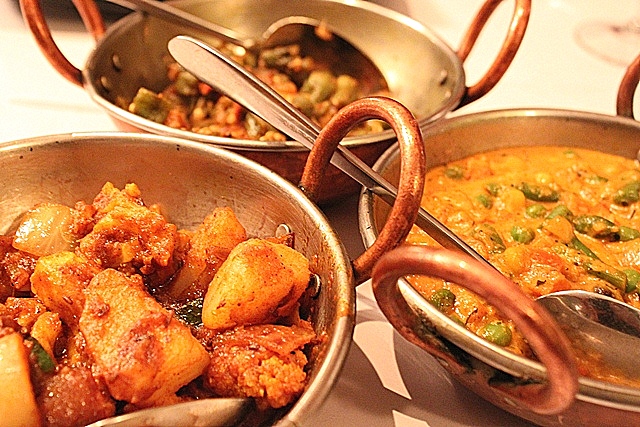 A trio of traditional dishes
When one thinks of Lancaster, Pennsylvania, images of a verdant countryside, the Amish and their enviable simplistic way of life are usually conjured–not to mention the plethora of shopping outlets that is one of the town's main draws.  Lancaster is also a comfort food fanatic's heaven; the place is teeming with family restaurants and smorgasbords–almost all dishing out familiar 'stick-to-your-ribs' fare that would make a grandmother proud.  One rarely associates fine Indian cuisine with the town where cars and horse-drawn buggies share the road and where the likelihood of running into a traditionally-dressed Mennonite doing her weekend errands is a near certainty; but located just at the cusp of the highway exit and connected to a non-descript hotel, there stands Tulsi–a restaurant determined to change the way diners view Lancaster.
Tulsi, specializing in traditional Indian fare, is unapologetic–full-on, in-your-face unapologetic.  After all, with a mere 1,495 Indians residing in Lancaster, it is the second smallest racial segment of the town's population of nearly 160,000; a fact that seems inconsequential to Tulsi's owners.  A stroll into the dining room confirms the fact that traditional chaat (Indian snack/street food) like vegetable samosas and pakoras (fried vegetable fritters) and staples like navratan korma (a medley of nine different vegetables simmered in a creamy sauce), bhindi masala (okra sauteed with diced onions, bell peppers and tomatoes) and aloo gobi (slow-cooked potatoes and cauliflower in a kashmiri sauce) appeal to patrons of all ethnicities.
Like almost all collectivist Asian cultures, Indian food culture is centered around communal dining.  At Tulsi, food arrives in hammered copper bowls and is meant to be shared among the table.  Piping hot squares of garlic naan are the perfect vehicle for scooping up the silken curds of homemade paneer while fragrant basmati rice complements both meat and vegetarian dishes alike.  Whether you're a first-timer or a curry devotee, the flavorful menu–steeped in conventional Indian cooking techniques and methods–is a delightful (and often spicy) trip through a cuisine and culture still unfamiliar to many.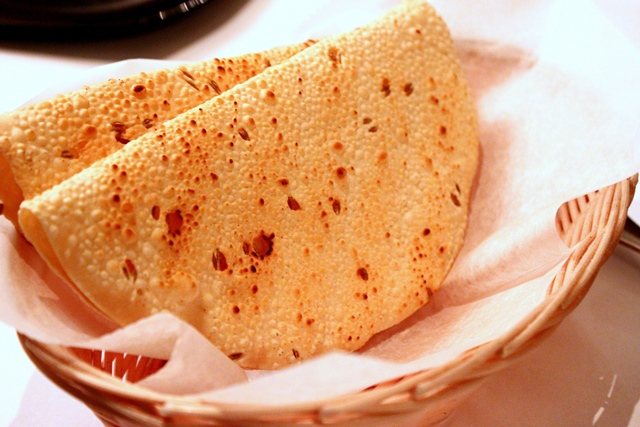 Papadum
Tulsi |
2101 Columbia Ave., Lancaster, PA 17603 | (717) 509-7771