Ask people–anyone–what their last meal on Earth would be and watch their faces transform with an almost rhapsodic glow.  The connection to food is just that powerful and to contemplate the meal that will usher you into the afterlife is a heavy task indeed.
Recently, I read a story about a woman who paints pictures of prisoners' last meals in protest of the death penalty and it made me wonder what I would request if I knew I was going to be eating my last meal.
Well, if the Mayans are correct in their world-ending prediction, we'll all be thinking about our last meals soon enough.
I've been lucky enough to eat a lot of great food in my lifetime and I could think of a dozen things I'd want to grace my final plate but the one thing that stands out is almost embarrassingly simple–so simple that many of you will probably think it's not worthy of a last meal.  You know what's even crazier?  The place where I ate this had no name; it was a little roadside taqueria in a non-descript, dry little town in California.  It was a gathering place for Hispanic migrant workers who toiled in the nearby strawberry fields; the land was pretty sparse save for the fields, two roadside stands, and the lone taqueria.
There was a hunched old woman pressing fresh tortillas and making lengua tacos with right-from-the-ground nopales.  There was another woman churning out hot, sugary churros like she had been doing it all her life.  The food was amazing, but it was the homemade tortilla chips and tableside guacamole that made me swoon.  Yes.  If the apocalypse is imminent, I'll be the one reaching for the chips and dip.
So, there you have it—my last supper.  Why?  Because it was just that damn good.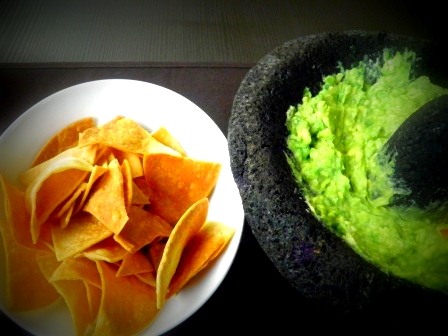 If the Mayans were right, this is how I want to go out…