I've Gone Paleo–Now What?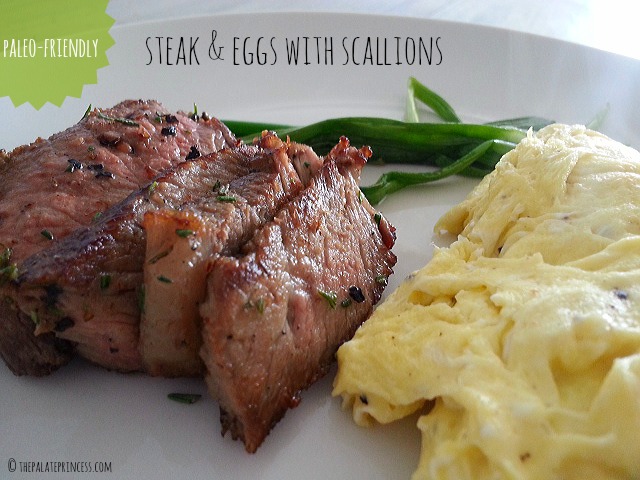 My Paleo breakfast of steak and eggs
TUMMY TROUBLES
For as long as I can remember, I've suffered from gut problems. You name it, I've experienced it. As a baby, I rejected whole milk forcing my poor sleep-deprived parents to search for an alternative which turned out to be soy milk. It worked miracles for me up until my toddler days when whole milk was reintroduced into my diet by an ill-advised pediatrician who declared that I had "outgrown" my dairy intolerance.
Fast forward through some gut-wrenching (literally) adolescent years as my weight ballooned and my gastrointestinal issues worsened and the only advice from doctors and specialists was a resounding "LOSE WEIGHT!" Meanwhile, not a single one of them thought to offer a concrete game plan–no diet adjustments, no mention of a lifestyle change–nothing. So I continued to foolishly punish my body with the processed junk that my peers and I loved to eat–pizza, burgers, fries and such–and then things got really ugly.
At the ripe old age of 19, a bomb went off in my gut.
MY 'OLD PERSON DISEASE'
Home for the summer from college, I was sitting at the kitchen table with my mother one night when an unbearable heat like nothing I've ever felt shot up my right side of my body and engulfed my abdomen like a vice grip. The pain took my breath away and, as I doubled over in a hot, sweaty heap, I fell out of my chair and onto the floor. My mother frantically called 9-1-1 and I was rushed to the hospital with what my gastroenterologist referred to as an "old person's disease" as it is more commonly found in older populations. Thanks to a poor, fatty diet, I had a bunch of nasty gallstones and my gallbladder had to be removed immediately. At 19 years old.
After its removal, the real trouble began. Alternating bouts of constipation, diarrhea, stomach griping, pain and night sweats made me miserable for years. In fact, I'm still plagued by those symptoms some 15 years later and I'm seriously sick of being sick. I've been diagnosed with IBS (Irritable Bowel Syndrome), gastrointestinal hyperpermeability (or leaky gut as it's commonly known), gastric ulcers and so on. What many people don't realize is that when your gut is sick and weak, it affects just about every other part of your body. Depression, anxiety, and insomnia are common by-products of gastrointestinal distress and, believe me, it can make life miserable.
LIFESTYLE CHANGE AND A VISIT TO AN HERBALIST
Over the course of the past 19 months or so, I've lost about 100 pounds through diet modification, clean eating and exercise but I recently slacked off for a few months (big mistake) and started loading up on carbs, dairy and grains. So it shouldn't have been a surprise when I stepped on the scale and saw a 10-pound weight gain; it was disheartening to say the least. If I'm honest, it scared the hell out of me. Anyone who's ever struggled to turn the tide on obesity knows how hard it is to lose weight and gaining one pound is bad enough–imagine 10!
My IBS worsened and stomach pain and night sweats became the norm again, so seeking help became a necessity not an option. I turned to certified medical herbalist Donna Merrill who conveniently offers complimentary consultations at Harvest Market Natural Foods in Hockessin, Delaware. If you're not familiar, Harvest Market is pretty much the area's authority and go-to place for holistic, homeopathic foods, herbs and healing aids. I arrived at the market with my usual symptoms–stomach pain, bloating and a distended belly–and was instantly greeted by Donna. She was a completely calming presence and no question was too silly and no issue was too graphic or gross to discuss; she was kind and patient but most of all she was thorough. I walked her through my years of gastrointestinal discomfort while she offered practical medical and spiritual advice; in addition to suggesting an elimination diet, she also advised that I adopt a Paleo diet. I'm not one to jump on fad diet bandwagons so I was skeptical. Wasn't Paleo the so-called Caveman Diet? What did that even mean? I started thinking of all the things I may have to eliminate from my kitchen pantry and refrigerator and all of the new products I would have to buy. Neither I nor my wallet was happy. Donna assured me that eating Paleo wasn't that difficult and, when used in conjunction with herbs and practices that addressed my specific needs, could be the cure for what ailed my gut.
For my specific needs, she recommended several things but stated that I should start slowly with an elimination/addition regimen.
ELIMINATE
Dairy (specifically milk)
Wheat (specifically bread made with traditional flour)
Soy
ADD
Fiber Smart (as a bulk laxative)
Bitters (to stimulate the system and draw energy downward toward the gut)
Donna's Tummy Tea (her stomach-calming, hand-blended tea of chamomile, fennel seeds and other herbs)
CAVING IN TO THE CAVEMAN DIET
For me, a new diet or lifestyle change usually requires a hefty monetary investment and a garbage bag to hold all of the food and products I need to throw away. After my visit with the herbalist, I went straight to the bookstore to research the Paleo Diet and find books (specifically cookbooks) that further elaborated on the issue. I was pleased to find out that I had largely misperceived the entire diet; I'm not much a meat eater and I thought the diet required Flinstonian consumption of Brontosaurus steaks and Pterodactyl legs but I was wrong. Paleo eating isn't just 'all meat/all day'. It's a clean, pure way of eating that focuses on lean, organic protein, vegetables, fruits, healthy fats and oils and the elimination of grains and dairy. I didn't have to do much kitchen pantry or refrigerator cleaning–I was already eating a semi-Paleo diet!
Still, there are some things that I needed to modify and Paleo essentials that I had to buy (or re-stock). Here's a list of things I purchased:
Almond flour (as an alternative to wheat flour)
Arrowroot powder (as a thickener is sauces and syrups)
Coconut flour (as an alternative to wheat flour)
Coconut milk (as an alternative to dairy milk)
Coconut oil (as an alternative to refined vegetable oils)
Coconut palm sugar (as an alternative to refined sugar)
Flax meal  (as an addition to baked goods)
Honey (as an alternative to refined sugar)
Olive oil (as an alternative to refined vegetable oils)
Stevia (as an alternative to refined sugar)
Vanilla extract (as an addition to baked goods; use a high-quality, gluten-free extract)
I'm excited to embark on the Paleo path and I'm hoping that it provides some relief to my ailing gut. The thought of adding more cookbooks to my already sagging bookshelves is appealing, too. Good health starts in the kitchen, right?
[gmc_recipe 4104]
*The author is not an expert and the above post is not intended as medical/weight loss advice. Consult your physician before starting any new diet or regimen.