Lighten Up the Holidays: Brussels Sprout Salad with Lemon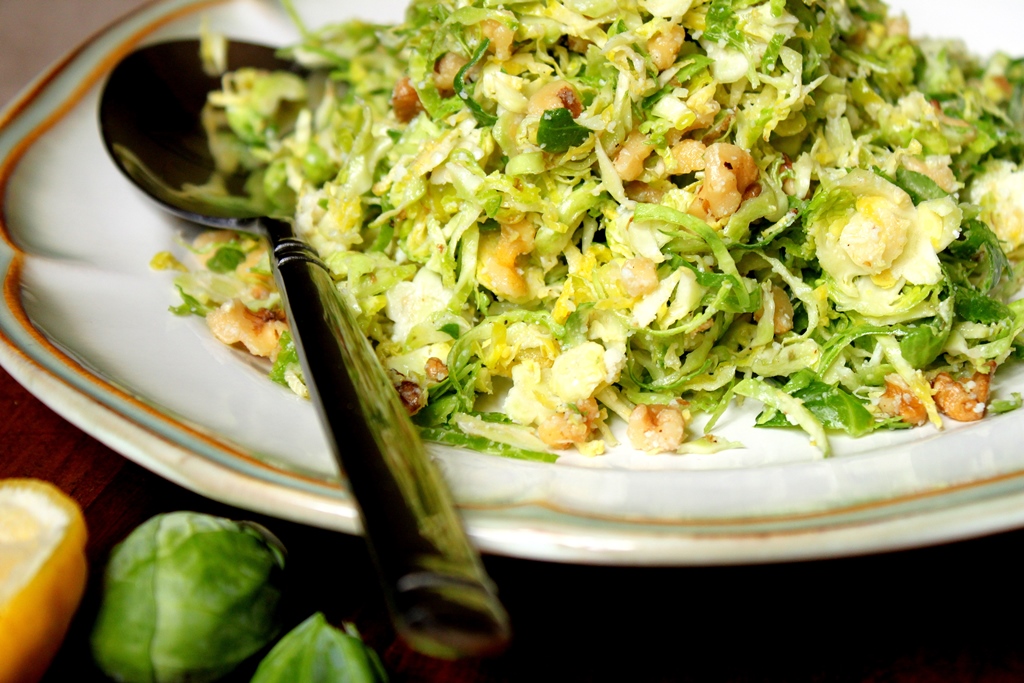 So often during the holidays meat takes center stage on the dinner table–glistening glazed hams, brined turkeys, legs of lamb and the like–while side dishes are relegated to serving as sideline dishes. Vegetables withering away in heavy cream sauces and clumpy, high-calorie casseroles are not only a waste of perfectly good ingredients but they also tend to stick around much longer than the holiday season in the form of extra pounds around the waistline. This is the season that most of us tend to overindulge, so why not lighten your holiday calorie count with a vibrant, healthy complementary side salad? Brussels sprouts are quite possibly the most overlooked vegetable in the world and have undeservingly earned a bad reputation, but in this dish they claim the spotlight as the main ingredient.
Perhaps more satisfying than the nutritious traits of this good-for-you salad is the fact that it is simple to prepare and requires no cooking–a fact that overburdened home cooks can appreciate, especially during the holidays. Seriously, preparation could not be any easier. I will mention, however, that the most important thing you need for this salad is not an ingredient but a tool–a mandoline to be specific. While you have to be careful to keep your fingers out of the way, the mandoline will thinly slice the Brussels sprouts in a way that most of us who don't possess the knife skills of a Japanese sushi chef would never be able to achieve on our own.
This season, add a bit of green to your holiday dinner table and lighten up your side dishes. After all, the big man in the red suit should be the only one with a jiggly belly.
[gmc_recipe 3432]
IMPORTANT NOTICE: ShopRite provides POTLUCK™ bloggers with free products, offers and services for the bloggers to review.