Next month doyenne of domesticity Martha Stewart will team up with Thomas Joseph, Director of Food Director at Martha Stewart Living, to host a special cooking demonstration as she shares recipes from her latest book Appetizers.
As anyone who has ever attended a Martha Stewart event can attest to, it is always a magical sight to behold as the media maven effortlessly whips up dishes or wows crowds with Pinterest-worthy crafts. Surely, her upcoming book signing and cooking demonstration will be no different. Space is limited and reservations are suggested. Martha will be available to sign books after the demonstration…and that's a good thing.
 XXX
EVENT DETAILS
Macy's Center City 
Thursday, September 10, 2015 at 5pm 
Greek Hall, 3rd Floor
Philadelphia, PA
With any Martha Stewart collection purchase of $50* or more in the Home department, receive a $10 gift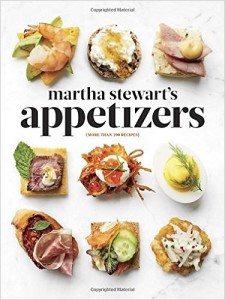 card,** a copy of Martha Stewart's Appetizers, and an opportunity to meet Martha and have her sign your cookbook.***
Please RSVP to 1-877-55- MACYS (1-877-556-2297) beginning Monday 8/31, from 10-6pm EST Mon-Sat 1-6pm EST Sun.
Reservations are suggested. Seats are first come, first served. *Purchase must be made between Aug 31 – Sep 10, 2015 at Macy's Center City only.
**One per customer, while supplies last and time permits.
***Gift cards and Martha Stewart books will be distributed Sept 10th. Macy's gift card valid Sept 10-17th. Martha will sign books after the demo only. Event subject to cancellation or change.