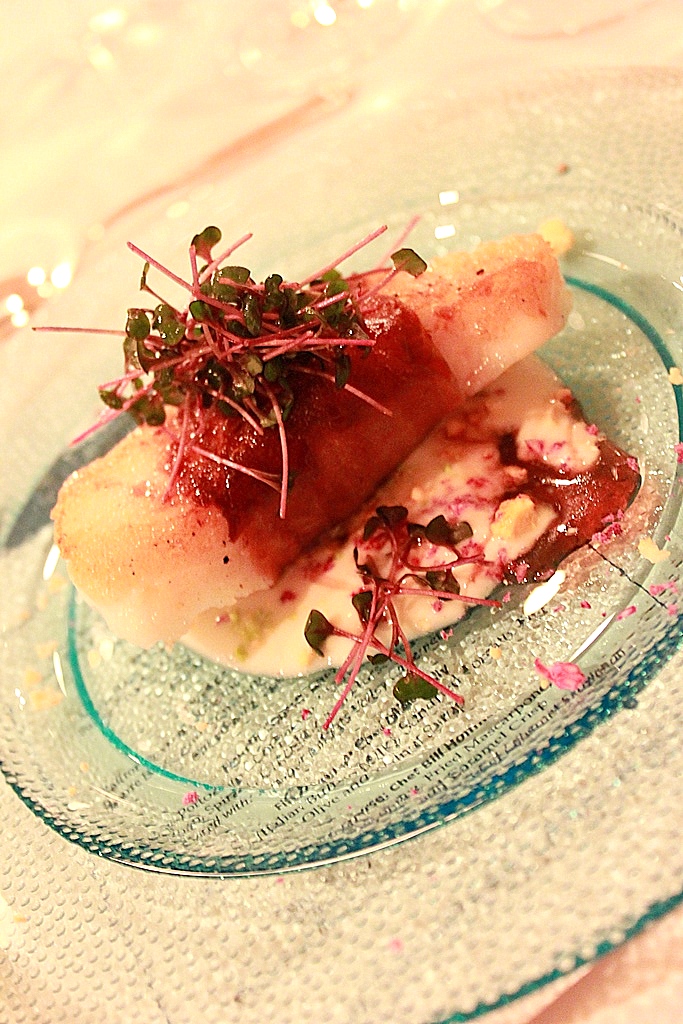 This weekend was an embarrassment of riches; it was one of those truly indulgent weekends in which all my activities–and I mean all–centered around food. Needless to say, there is no other way I'd care to spend my time.
As a native Delawarean, I was thrilled to attend the MidAtlantic Wine and Food Festival—a 4-day event with over 40 demos, lectures, and dinners that span the entire length of the state. While there were plenty of celebrity chef appearances and collaborations, the festival focused on local chefs who are doing progressive cuisine and are pushing the culinary envelope in a state whose own dining landscape has often been overshadowed by that of nearby Philadelphia, New York City, and Washington, DC.
On Friday night, 6 local chefs proved their kitchen prowess at a multi-course dinner called Pop-Up Restaurant 2020 at Vicmead Hunt Club in tony Greenville. The night was a veritable who's-who of Delaware elite with some of the area's most notable and distinguished residents in attendance, all eager to dine on the chefs' take on food of tomorrow. The night welcomed some of the region's most progressive chefs, including Bill Hoffman (The House of William and Merry), Eric Aber (Home Grown Cafe), Mike Kelly (Vicmead Hunt Club), Patrick D'Amico (Harry's Savoy Grill)  and Robbie Jester. As the dinner's title implies, the menu fast forwarded guests 7 years into the future with whimsical and, often times, forward-thinking dishes; each course included a wine pairing and an astute lecture by various members of the Delaware Wine Guild. The general consensus of the night was if this is what the future holds, we can't wait to ring in 2020.
MENU
First Course | Chef Bill Hoffman Pineapple and Roasted Red Pepper Soup, Pink Shrimp Ceviche and Smoked Paprika Cracker
Paired with: Yellowglen Pink Aromas of strawberries with a splash of citrus bubble under the nose develop into refreshing fruit characters of berry and lime.
Second Course | Chef Eric Aber Duck Liver Mousse-Stuffed Caramelized Seckel Pear, Baby Arugula, Honey Mead Vinaigrette, Toasted Hazelnuts and White Truffle Oil
Paired with: Chateau Saint Jean Fume Blanc Aromas of peach, nectarine, apple blossom and notes of fig and spice, with flavors of Fuji sweet apple, citrus and a touch of honey.
Third Course  | Chef Patrick D'Amico Monkfish Wrapped in Prosciutto, Cauliflower Coulis, Butter Poached Cauliflower, Grated Tricolor Cauliflower and Micro Cabbage Greens
Paired with: Stags Leap Viognier Floral and stone fruit aromas,  flavors of peach, nectarine and apricot, lifted by bracing, natural acidity and inviting minerality.
Fourth Course | Chef Robbie Jester Saffron Bourse (Purses), Robiola Cheese Filling, Grilled Meyer Lemon Beurre Blanc and Vermouth,  Roasted Cipollini Onion Emulsion
Paired with:  Gabbiano Chianti Classico Hints of dark cherry on the nose, the palate is fresh with flavors of plum, violets and juicy cherries.
Interlude | A palate cleanser of lime sorbet and fruit compote
Fifth Course | Chef Andy Feeley Beef Deckle Steak Portobello "Carpaccio," Marble Potato, Ricotta-Spinach Flan, Spinach Crackling and Horseradish Vin Rouge
Paired with:  Beringer Knights Valley Cabernet Sauvignon Aromas of blueberry, dark plum, baking spices, sweet licorice, brioche, and a hint of graphite, flavors of boysenberry and blue fruit.
Sixth Course | Chef Mike Kelly Casatica (Italian Buffalo Milk), Sundried Tomato, Fig, Olive and Walnut Syrup
Seventh Course | Chef Bill Hoffman Chocolate Decadence, Fried Mascarpone, Citrus Variations, and Caramel Crisp
Paired with:  Beringer Knights Valley Port of Cabernet Sauvignon Sweet strawberry and cherry pie, with brown spices and toffee.
View some of the highlights below:
[slideshow_deploy id='3026′]