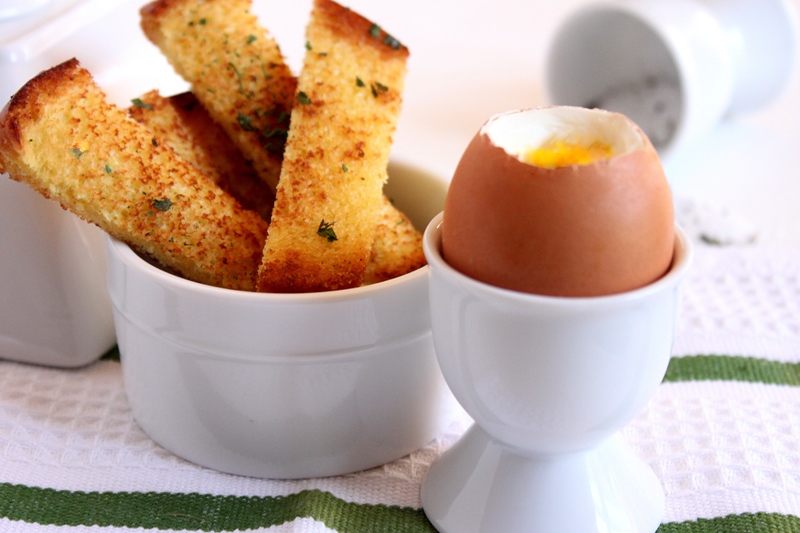 Breakfast is my absolute favorite meal of the day; I really could eat it any time of the day.  Brunch at noon, brinner (breakfast for dinner), or sometimes at 3 AM–you name it.  Like famed molecular gastronomy chef Wylie Dufresne, I seriously love eggs.  It's a borderline obsession; a breakfast without eggs is a sad one indeed.
One of the greatest egg dishes of all time is arguably one of the simplest and it comes to us from our brekkie-loving friends across the pond.  In Britain, soldiers and eggs refers to a runny, softly boiled egg and strips of toasted bread that are used for dipping.  Does it get any easier?  If that's not sexy enough for you, add some fancy salt (I mixed Maldon salt, fresh thyme, and cracked pepper) and–voilà–you've taken it to another level.
My British Brekkie: Soldiers & Eggs
Author:
Prep time:
Cook time:
Total time:
This breakfast dish, also known as dippy eggs, couldn't be any simpler to prepare. It's a British classic that never goes out of style.
Ingredients
2 eggs
2 slices of bread
1 tablespoon butter
1 teaspoon Maldon salt
1/2 teaspoon fresh thyme
1/8 teaspoon cracked black pepper
Dried parsley (optional)
Instructions
Take eggs out of refrigerator at least 10 minutes prior to cooking. Room temperature eggs are less likely to crack when boiled.
Fill a small pot with enough water to cover eggs and bring to a boil. Using a spoon, add eggs one at a time to boiling water. Allow eggs to boil for 4 minutes.
Meanwhile, melt butter in a small pan and toast bread slices. Remove from pan and slice into 1/2-inch strips. Sprinkle with dried parsley (optional).
Remove eggs and place in individual egg cups. Using a butter knife, gently tap around the top of the egg and remove the top. (You can also use an egg topper which is a special tool used to cut through an eggshell.)
Serve immediately.