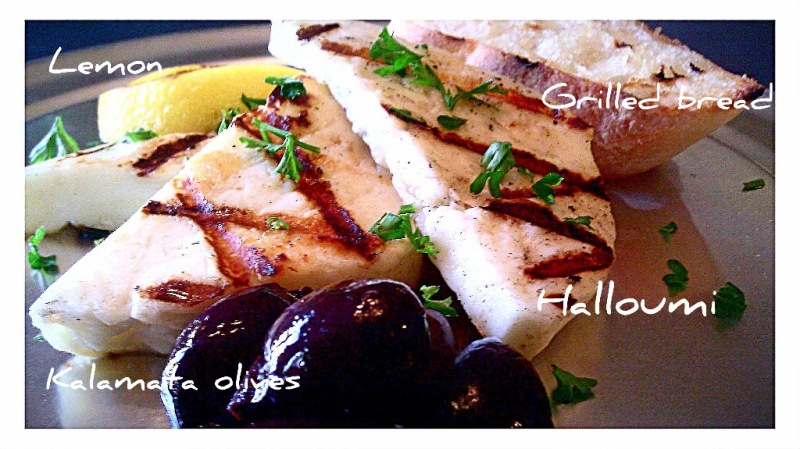 OK, so there was this one time I had dinner with John Stamos.
Sort of.
Well…
Not really.
OK, in my head I often have dinner with John Stamos.  I have been totally obsessed loved him since his mullet-wearing Uncle Jesse days.  So naturally, I like to think of what I'd cook for him should I ever have the chance to kidnap meet him.
The meal would of course be Greek-themed (feel free to take off your toga, Mr. Stamos) and it would be super simple so it would leave plenty of time for…well, you get the drift.
Want to cook for your own Greek god?  All you need are a few simple ingredients (and John Stamos).
Photo of John Stamos courtesy of IMDb
| | | |
| --- | --- | --- |
| Grilled Halloumi with Lemon and Kalamata Olives | | |
Author:
In the US, when we say "grilled cheese," we are usually referring to a grilled cheese sandwich. Did you know there's a cheese you can actually grill without it melting into oblivion? Halloumi is a firm, salty Greek cheese that won't disintegrate when it meets the flame. It's perfectly at home on both a cheese plate and as a light main.
Ingredients
1 block halloumi cheese, approximately 8.5 ounces
1 lemon, scrubbed and sliced into wheels
1 cup kalamata olives
1 loaf crusty bread (like baguette)
3 tablespoons flat-leaf parsley, roughly chopped
Olive oil, for brushing grill and cheese
Instructions
With a silicone pastry brush, generously oil hot grill (or grill pan) with olive oil.
Remove halloumi from package and, using paper towels, pat dry. Slice cheese into 1/4 to 1/2-inch thick slices; then cut each slice diagonally so you have triangles.
Slice a loaf of bread on the bias into crostini-like pieces; brush each side with olive oil.
Lightly brush each side of cheese and lemons with olive oil. Place on hot grill. Grill the lemons for about 1-2 minutes on each side until browned, not burnt; place bread slices on grill for about 1-2 minutes each side (remove when edges are crisp). Finally, grill cheese for about 2-3 minutes on each side until soft.
Arrange grilled cheese, bread, and lemons on a plate with kalamata olives and garnish with chopped parsley. Serve immediately.