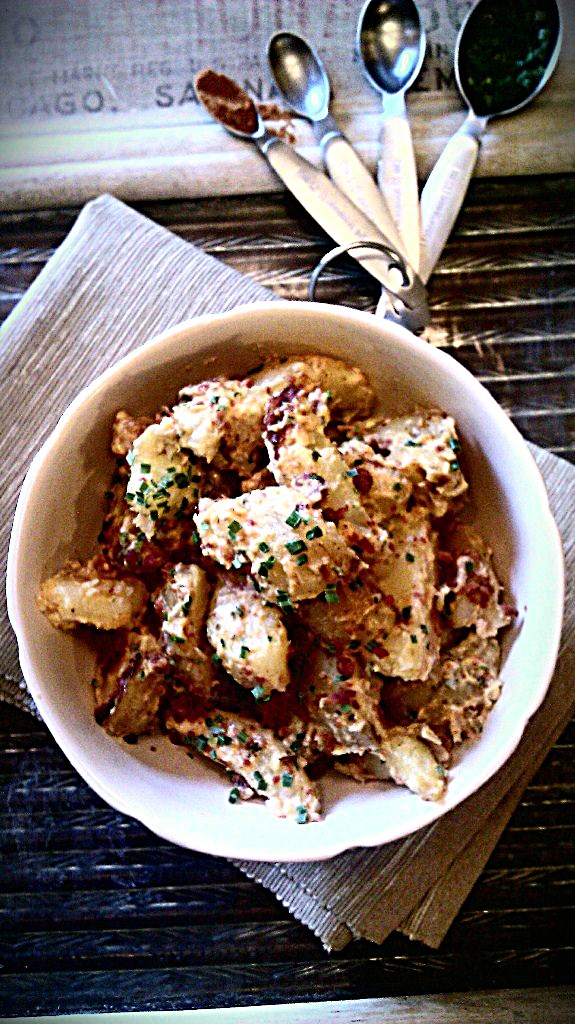 My mama would kill me.
That's my first thought as I decide to pull out the grill on one of the hottest days of the year.  Even though it's almost 8 PM, the temperature is still hovering around 94 degrees; for a snow and brisk weather-loving winter baby like myself, this is literally hell on earth.  Nevertheless, I am determined to make this dish.
My mama would kill me.
I can't shake that annoying little voice in my head–a taunting reminder that if my mother knew what I am planning to do she would indeed kill me.  I'm planning on tweaking one of her beloved recipes.  Just a smidgen.  That's a lie.  A lot.  Another lie.
OK, I'm planning on completely bastardizing one of the South's staple dishes with all the gumption my little Northerner heart can muster.
I'm going to grill potato salad.  (Southern women everywhere just clutched their pearls.)  Well, technically I'm going to grill the potatoes and then incorporate them into a salad.  (Southern women everywhere are still clutching their pearls.)
Oh, and I'm eliminating the hard-boiled eggs and sweet pickle relish–key ingredients in my mother's recipe.  The dash of paprika that always topped the finished dish?  Gone.
My mama would…
Actually, my mama would be proud that I was cooking.
| | | |
| --- | --- | --- |
| Not My Mama's Potato Salad: A Northerner's Take on a Southern Classic | | |
Author:
A traditional potato salad gets a modern reworking and a smoky, spicy makeover with the help of a grill and a hint of cayenne pepper.
Ingredients
Dressing, recipe follows
10 small yellow potatoes, par-boiled and quartered
3 teaspoons olive oil
1 teaspoon kosher salt
1/4 teaspoon cayenne pepper (less if you don't like heat)
3 strips bacon, cooked and crumbled
1 tablespoon chives (and more for garnish)
Dressing ingredients:
1/4 cup mayonnaise
1 teaspoon yellow mustard
2 teaspoons apple cider vinegar
Instructions
Preheat grill to medium
Place potatoes into a large bowl. Drizzle with olive oil and add salt and cayenne pepper. Combine until well coated.
Put the potatoes directly on the grill and close grill top. Grill for 3-5 minutes on each side. When ready, place back into the bowl and add the bacon and chives. Toss potatoes with dressing and garnish with chives.
Notes
This dish can be served either warm or cold.