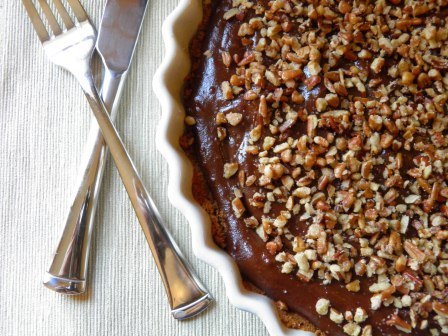 Thanks to last summer's blockbuster The Help, a movie based on the novel by Kathryn Stockett, there is no shortage of chocolate pie recipes floating around and, once again, Southern culture–more specifically–Southern food is at the forefront. In the movie, scandal surrounds a 'secret ingredient' in the chocolate pie. I won't spoil the plot for you, but I assure you that 'ingredient' is not in this pie.
I've taken my mother's traditional chocolate pie and flipped it on its ear a bit. The basic recipe remains largely unchanged but there are a few twists–namely the use of a delicious Biscoff cookie crust, the addition of vanilla to the filling, and a salted pecan topping. Different but still wildly delicious.
Southern Chocolate Tart with Salted Pecans
Ingredients (for filling)
1⅓ c. white sugar
3 egg yolks
¼ c. unsweetened cocoa powder
¼ c. all-purpose flour
¼ tsp vanilla
3 tbsp butter
1 (12 fluid ounce) can evaporated milk
Preparation
Preheat oven to 350°F. Sift together dry ingredients and combine in a deep saucepan. Beat egg yolks with milk. Slowly add to sugar mixture; add vanilla Cook on medium heat until thick while stirring with a flat-bottomed wooden spoon. Remove mixture from heat and stir in butter until melted. Pour filling into baked pie crust and top with salted pecans*. Bake for 10 minutes. Remove from oven and allow tart to cool.
*For the topping, mix ¼ cup crushed pecans (my OXO food chopper came in handy for this task) with 1 tbsp of melted unsalted butter and ½ teaspoon of sea salt
_________________________
Ingredients (for crust)
1⅓ c. (about 30 cookies) Biscoff cookies
1 tbsp sugar
1 pinch of salt
¼ c. (or ½ stick) of unsalted butter, melted
Preparation
Preheat oven to 350°F. Coat 9-inch glass pie dish with nonstick spray. Mix finely ground cookie crumbs (I used my OXO food chopper), 1 tablespoon sugar, and pinch of salt in medium bowl. Add lukewarm melted butter; mix to blend. Press crumbs onto bottom and up the sides of dish. Bake until golden around edges, about 10 minutes. Cool completely in dish on rack.