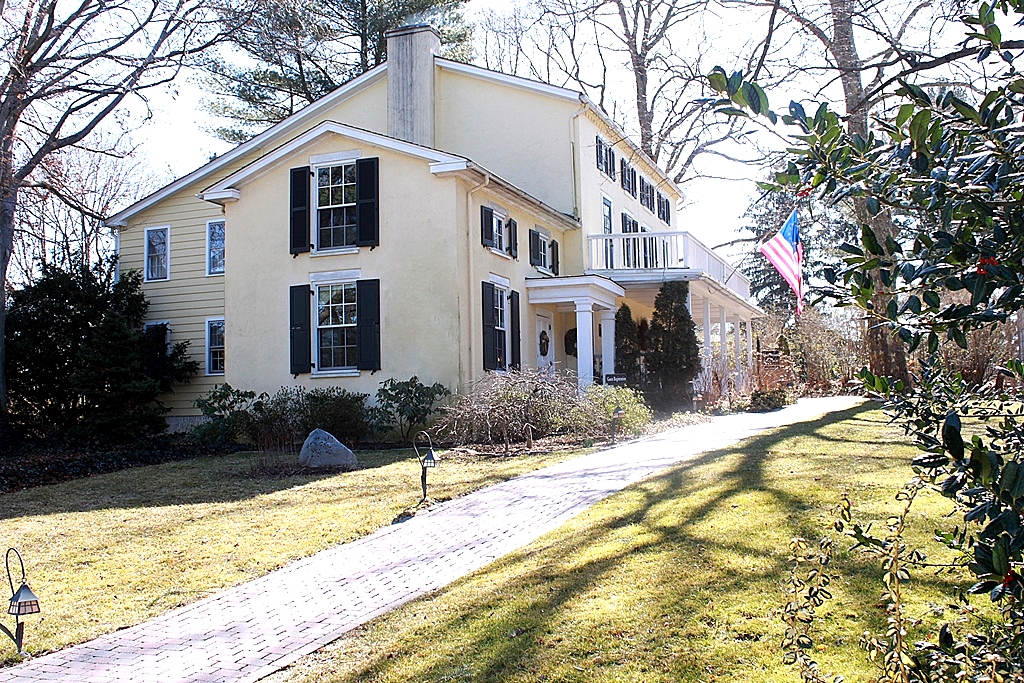 As I mentioned in an earlier post, this weekend was about food, food and more food. I was in town for the MidAtlantic Wine and Food Festival and had the opportunity to stay at Fairville Inn in Chadds Ford, PA not far from Delaware's border. In the true spirit of confessing, I must admit I am a bit obsessed with B&Bs; I much prefer them over standard hotels. It may be a combination of the intimate service and the often times interesting backstories of the properties themselves that make me swoon. Whatever it is, I have found a new favorite B&B right in the heart of the Brandywine Valley.
Nestled between Longwood Gardens and Winterthur Musuem, the inn is comprised of 13 rooms and 2 suites divided among the Main House (the original 1837 house), the Carriage House and the Springhouse. All of the rooms are uniquely decorated and offer a real sense of individualism that most hotels simply don't provide. Innkeepers Rick and Laura Carro have handpicked antiques and baubles from their travels to adorn the main house and the outbuildings, often changing a room's theme on a whim. Surrounded by stately homes and sprawling estates, the area is home to some of the Valley's most beautiful, winding back roads–the kind that encourage exploration and leisurely driving.
Like many innkeepers, Rick Carro is a career changer. A lawyer by trade, he decided to leave behind the congested parkways and bureaucracy of Washington, DC for idyllic Chadds Ford and took yet another interesting turn. Not only did he give up the law to open a B&B, he set out to further refine the culinary skills he had developed as a young, penniless law student.
"I didn't have money to go out and eat at all the fancy places in DC, so I would read books and try to recreate the dishes at home," he shared.
At that time, home was an apartment shared with several of his fellow classmates. Though a house full of males, Rick admits that he became the "den mother" often using his friends' palates as experimental proving grounds. Over the years, he tweaked and perfected many recipes and, after marrying Laura, the dinner parties they threw in their new home became legendary.
With no hint of exaggeration, Rick matter-of-factly said, "An invite to one of my dinner parties was highly coveted."
And, after tasting the breakfast at Fairville Inn, it's understandable why friends would clamor for an invitation. Laura takes delight in Rick's handling of the cooking duties and is more than happy to "let him do his thing" in the kitchen. The Carros agreed long ago that Rick would be the inn's chef and take responsibility for Fairville's breakfast-only menu–a menu limited only by his imagination. Further distinguishing the B&B's offerings from a typical hotel's continental breakfast, Rick is adamant about using seasonal ingredients and executing new takes on the classics.
The ingredients for a filling, dessert-like baked French toast are allowed to soak in a custard-like base overnight before finishing in the oven the next morning. A self-proclaimed kitchen gadget lover, Rick recently purchased a smoker for the kitchen in which he mixes applewood and mesquite to cook breakfast sausage; he often tinkers with the combination of woods to impart different flavors. The latest addition to the menu, a crustless spinach and ricotta quiche, is light and creamless but sacrifices none of the flavor; Rick tosses in a generous handful of feta for good measure.
Given the inn's proximity to Kennett Square–the famed Mushroom Capital of the World–a conversation about our shared love of mushrooms was inevitable. Rick revealed that wild morels grow on the property–a fact he discovered when his real estate agent showed them the property years ago–and the patch at the far end of the property yields tennis ball-sized beauties. But don't expect to find them on the inn's breakfast menu.
"Sautéed, cooked down and finished with a bit of cream is how I like them," he teased. "But I save the morels for home."
Don't fret too much about the mushroom hoarding, though. He is considering putting a mushroom dish on the inn's menu in the near future and is exploring some other exciting ventures for Fairville, including a dinner-by-appointment idea he's been toying around with for a while. Stay tuned because one never knows what's up this lawyer-turned-innkeeper-turned chef's sleeve.
[slideshow_deploy id='3058′]