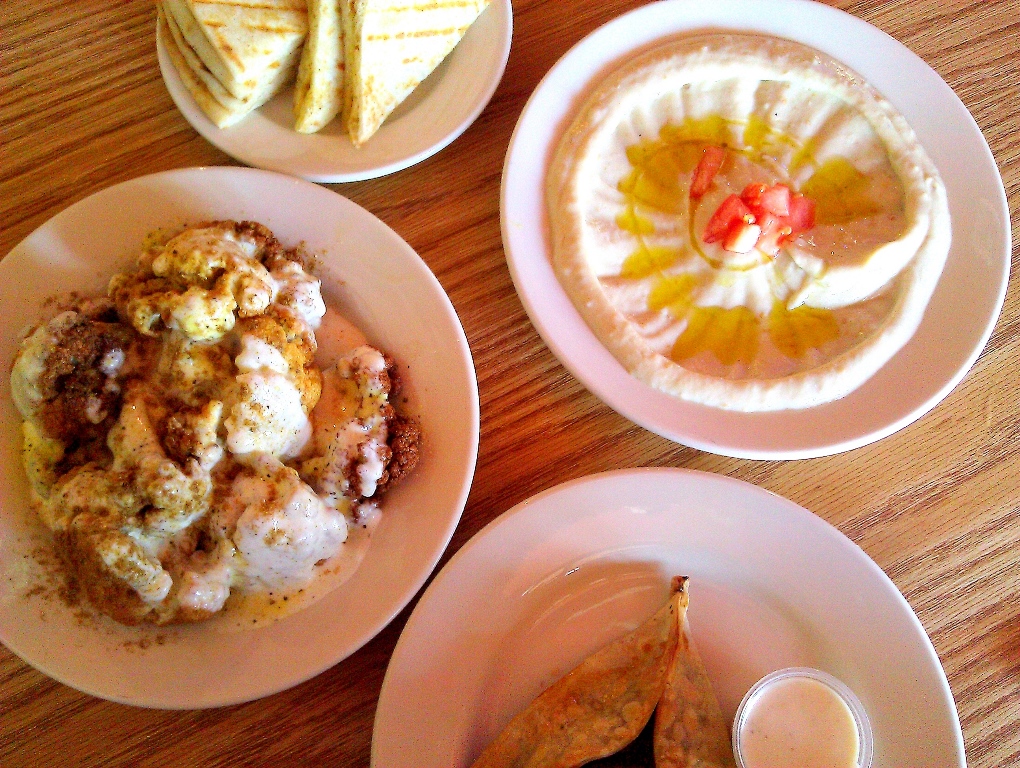 As a true food enthusiast, I'm always on the hunt for interesting places to eat. Holes-in-the-wall, dive-y spots, hidden gems–those are the kinds of places I'm drawn to. A couple of weeks ago, the most intense craving for Mediterranean food hit me and, for me, once a craving hits there's no satiating it with a substitute.
It was Mediterranean I craved so it was Mediterranean I sought.
As I sat in the car debating to which one of my tried-and-true spots I should head, I decided that I didn't want to trek all the way to Lambertville, NJ to eat at Marhaba nor was I in the mood for the singularly-focused Greek Cypriot menu at Kanella. Besides, I frequent those two places a lot and I wanted to try something new and exciting–two criteria that often present a challenge for me. Why? I live in an area nearly devoid of any non-chain restaurants and the local dining scene is less than impressive; it's a near certainty that if I want a good, outside-of-the-box meal I will have to travel to find it.
I had almost resigned myself to the fact that I would be hitting the highway and heading to the city for lunch until I bit the bullet and checked my phone's Yelp app in the hopes that a decent Mediterranean restaurant was nearby. Truthfully, I hate Yelp in its current incarnation–I used to use the site religiously but now it's overrun with snark and inaccurate reviews but that's a story for another day. But I must admit, the site was helpful in finding a place that I have immediately thrown into my rotation.
Strip mall location and eerie Starbucks resemblance aside, True Blue Mediterranean Café is one of Emmaus' more exotic restaurants. In true 'something-for-everyone' style, the tiny space also serves as an internet café (with free wi-fi), a hookah lounge, and there's also an open-air dining garden out back.  Ziad Hariry, a native of Damascus, Syria, opened the coffee shop years ago to fill what he perceived to be a void in ethnic dining and True Blue serves all the classics. Babaghanoush, falafel, hummus, and stuffed grape leaves make an apperance but they are so well-seasoned and flavorful that it feels like something new. Between forkfuls of fried cauliflower dappled with a bright, slightly acidic "lemonaize," Sam and I chatted about Mediterranean food in general and soon found ourselves in a deep conversation about–what else?–spices.
When I asked about the origin of the smokiness of the babaghanoush and mentioned that I thought I tasted za'atar and sumac, he ran back to the kitchen and brought back a nearly empty behemoth of a cookie jar. He took off the lid and motioned for me to get a whiff of its contents–all of the secrets of Mediterranean cooking must've been in that jar. Pleasant hints of za'atar, cardamom and allspice were immediately recognizable. Apparently, it was one of many oversized jars of spices he keeps on hand but don't expect to see Sam spice shopping at the local grocery store. He is adamant about authenticity and imports spices and ingredients that are otherwise hard to find here in the States directly from Damascus; more recently, he enlisted the help of his father-in-law who still resides in Syria. On a trip to the US earlier this year, his in-law arrived with four suitcases stuffed with spices and dried herbs which Sam said will tide him over for months. He winced as he set down the spice jar and explained his sustained injury is a result of hand butchering the lamb used for gyro; I was impressed because I always avoid gyros because the meat is almost always comprised of animal scraps and mass-produced and packaged in some faraway facility.
It's nice to know tradition and quality still mean something to the chef/owners behind the independently spirited True Blue; it's even better to know that this restaurant is practically in my backyard.