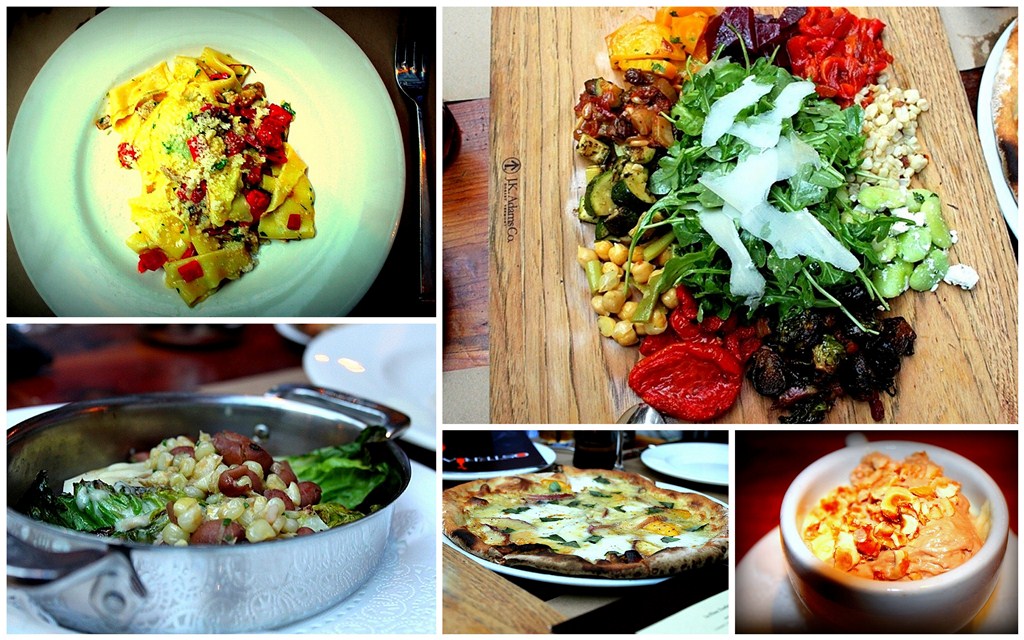 (From clockwise, pappardelle with veal, fresh vegetable board, polenta "budino," white peach pizza, bean and corn salad)
My last meal at Osteria was well over a year ago and I vowed it would be my last.  Having been unceremoniously escorted to a miniscule table next to an awkward waitstaff station in the elbow-to-elbow dining room and served a charred-beyond-recognition pizza was the last straw for me.  I'd gladly give Marc Vetri's other ventures, the eponymous Vetri and his casual Italian comfort food spot Amis, my last dime but I walked out of Osteria feeling like a jilted lover.
Opened in 2007, Osteria–like all restaurants–has had its fair share of hiccups (at least for me) but a recent meal with friends proved that maturity and a steadfast commitment to its food has put this place back on my radar and it's likely to stay there.
The concept of a true Italian osteria is a simple one: At its best, it is simply an eating establishment where the owner hosts a group of people and there is generally a convivial, almost familial, feel to this North Broad Street eatery where the focus is on highlighting the simplicity of rustic Italian fare and the open dining room is a cacophony of the tinkling of fork tines and the satisfied sighs of diners.  The menu isn't overwrought with pretentious dishes, though one's tongue may trip clumsily over words like casaligna or ciareghi.  It is fairly straightforward with an offering of antipasti, thin-crust pizzas, homemade pastas, and wood-grilled meats and fish; a thoughtfully-curated wine list presents all-Italian labels.
While there are really no misses on the menu, if you are looking for a true showing of the kitchen's skills, order any of the pasta dishes.  Wide, delicate ribbons of pappardelle are tossed with fresh parsley, peppers, and tender veal while hearty rigatoni prove sturdy enough to hold up to a rich chicken liver 'gravy'.  I could wax poetic for hours about my newfound respect for this gem, but Inquirer food critic Craig LaBan said it best in his most recent review of Osteria: "It's the taste of three bells at its best."