Top left: Ricotta, rosemary and thyme tartine Bottom right: Ricotta, prosciutto and black cherry tartine
When we think of Sunday meals, our minds usually conjure up images of family gathered around the dinner table–essentially ignoring the meal that precedes it. That's right–lunch. When is the last time you had a proper Sunday lunch? Still scratching your temple? Me too. I'm usually so focused on figuring out what to put on the dinner table that I ignore lunchtime. Our English friends across the pond would be aghast at our bad habit of shunning Sunday lunch. Today, I took a stand and decided to devote some time to making my afternoon meal special. Tartines (open-faced sandwiches) made with homemade ricotta, some fresh herbs, prosciutto and black cherries came together beautifully in this easy-to-make dish, making me think that I should do this more often.
Homemade Ricotta Cheese
Print recipe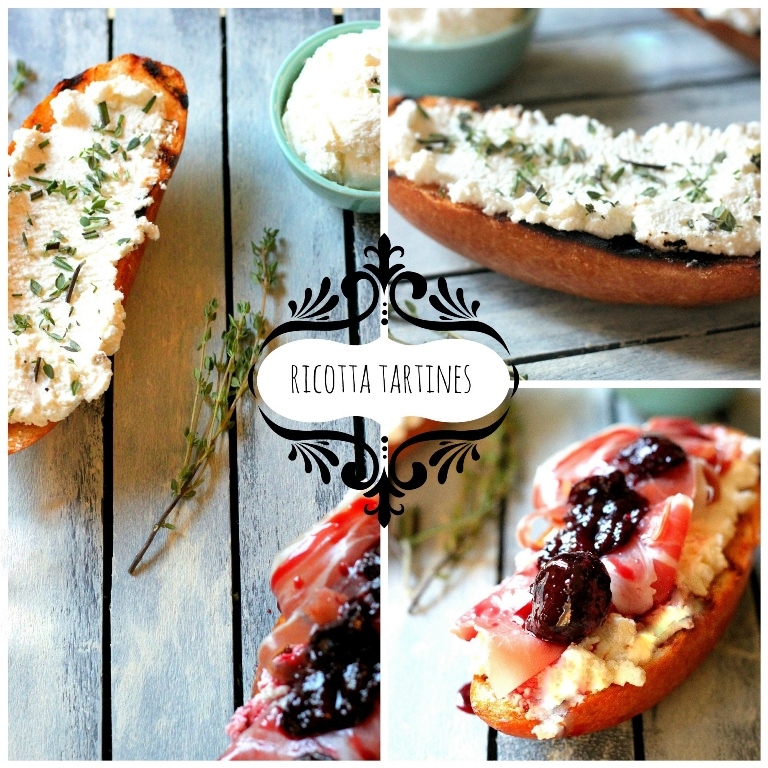 Ingredients
1 Gallon whole or skim milk
1/2 cup Apple cider vinegar
Directions
Step 1
In a large pot, heat milk until foam begins to form on top (do not let boil). It is very important to get the milk hot enough or else your curds will be stretchy like mozzarella.
Step 2
Turn off heat and add vinegar. Stir mixture until curds separate from whey. (Whey will turn yellowish-green).
Step 3
In a cheesecloth-lined colander, drain curds. (I reserved about 1.5 cups of the whey because I like to whip my ricotta in the food processer and get it creamy and smooth.)
Step 4
Remove curds from cheesecloth and form into a ball. Store in an airtight container and refrigerate or freeze.
Optional
Step 5
Again, I like to throw my curds into a food processor or blender, adding a bit of the whey to moisten it and whip it until it's smooth. I also add a pinch of Kosher salt before whipping.