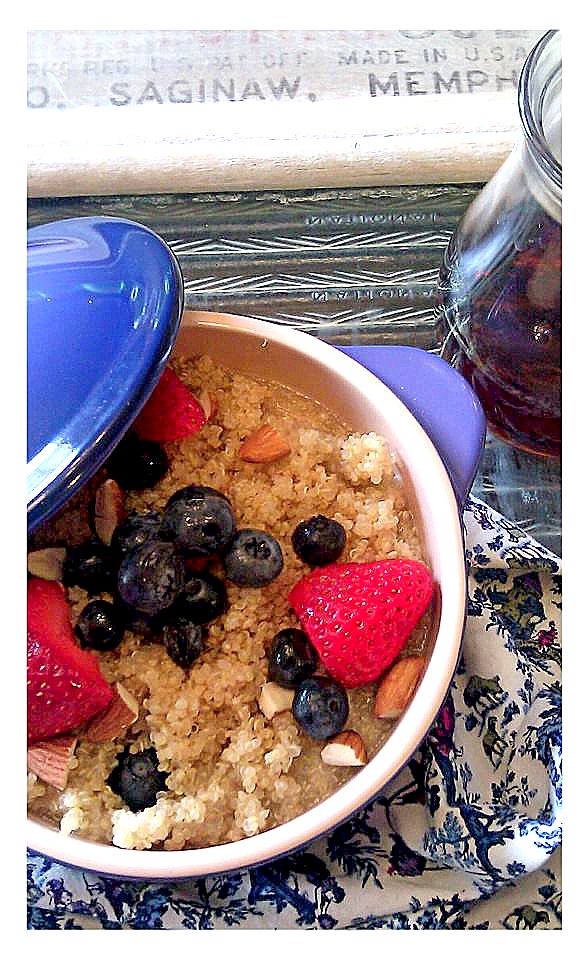 I don't do themed recipes.
In  fact, I hate them.
I can't stand it when food writers and bloggers flood the internet with red, white, and blue trifles in honor of the 4th of July.
Deviled egg "eyeballs" in celebration of Halloween make my skin crawl.
And don't get me started on the ghastly food coloring-dyed atrocities people serve on St. Patrick's Day.
Blech.
Unless you live under a rock, you know that the opening ceremony of the Olympics was last night and, believe me, I wasn't planning on cooking or writing about anything remotely Olympics-related.  I certainly wasn't planning on making a red, white, and blue breakfast.
Then I saw über-designer Ralph Lauren's Chinese child slave-made Team USA outfits and I felt a surge of patriotism but it wasn't because Ralphie's outfits were so amazing.  In fact, it was quite the opposite.  They were hideous.  Actually, if you're French (or Monica Lewinsky), you'll appreciate the outfits but for those of us who live on this side of the pond, most were baffled as to why a designer who built his brand on quintessential all-American style would choose such a design.
Anyway…
I was so disgusted that I decided to take it upon myself to single-handedly save Team USA from further embarrassment.  You're welcome.
So, here it is–a quick, Olympic-themed, patriotic, All-American breakfast of champions.  Suck it, terrorists.
| | |
| --- | --- |
| [RECIPE] Breakfast (Quinoa) of Champions: The Olympic Edition | |
Author:
A true breakfast of champions, quinoa is packed with protein and is super-healthy. It often serves as a blank canvas for both savory and sweet dishes.
Ingredients
1 cup quinoa, rinsed and prepared according to package directions
1/4 cup almonds, roughly chopped and toasted in a dry pan
1/2 cup fresh strawberries, sliced
1/2 cup fresh blueberries
Milk (dairy or non-dairy), warmed
Maple syrup
Instructions
Rinse and prepare quinoa according to package directions. Set aside.
Place a serving size amount in a bowl and add warmed milk to your desired taste. Top with fruit and almonds; drizzle with maple syrup.