Here we are–right smack in the midst of the holiday season. Unbelievable, right? The holidays often get the dubious honor of being the most stressful time of the year (sometimes, rightfully so) but it's also a great time to relax and get some baking done. That's right–the practice of holiday baking is a tradition in many households (including mine).
For me, baking is a way to de-stress after fighting the shopping crowds, wrapping presents (er, I mean helping Santa wrap presents), and entertaining friends and family. I'm a chronic insomniac so I usually find myself in my kitchen late at night with my mother's well-used, handwritten cookbooks poring through their pages looking for the best recipes. Holiday baking is a great way to bond with the kiddos (or, in my case, my three little nephews) and, let's be honest, edible treats are more fun to give than re-gifted candles.
I love this recipe that elevates the humble sugar cookie to a whole new level with the addition of brown butter. It sounds simple but a little thing like taking the time to brown the butter and your mind will be blown. Trust me.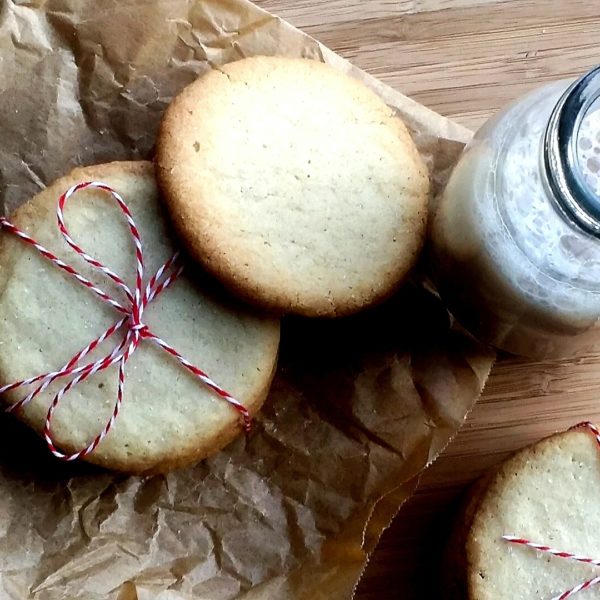 Cook Time

15

minutes (per cookie sheet)
Cook Time

15

minutes (per cookie sheet)
Place the butter in a medium saucepan. Cook over medium heat, stirring frequently. Once the butter melts and begins to foam, continue to cook until brown specks begin to appear beneath the foam. The butter will have a nutty aroma. Remove from the heat and transfer to a glass bowl. Allow to cool.

Whisk together the flour, baking soda, and salt. Set aside.

Using an electric mixer on medium speed, beat the cooled butter, brown sugar, and sugar until combined. Add the egg and vanilla, and mix well

Reduce mixer speed to low. Gradually add the flour mixture, mixing just until combined.

Refrigerate the dough for 30 minutes.

Preheat oven to 350°F. Line baking sheets with parchment paper or silicone liners

Using about a tablespoonful of dough, roll into balls and place on the prepared pans. Flatten each ball slightly. Sprinkle coarse salt on the tops of cookies. (The amount of salt is a preference thing. I recommend the tiniest of pinches.)

Bake 12-15 minutes, or until the edges of the cookies are browned and the centers are set. Cool in pans on wire racks for 5-10 minutes. Then, transfer the cookies to wire racks to cool completely.*If leaving a plate of these beauties out for Santa, don't forget to serve with milk!