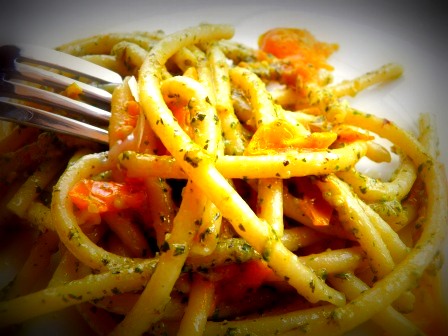 Summer eating means lots of fresh produce and simple flavors and if you're lucky enough to live in a farming area like I do, it means having access to bountiful farmers' markets, roadside stands, orchards, and the like.
Standing over a hot grill in the hot sun on a hot day may be some brave souls' idea of summer cooking and, while I've been known to occasionally join the masses in the primal need to grill, I'd much rather keep the heavy cooking to a minimum.  This recipe of bucatini (a thick, hollow-tubed pasta), fruity sun gold tomatoes, and pesto requires minimal cooking–leaving plenty of time to make yourself one of these.
(By the way, the tomatoes are from the wonderful Milk House Farm Market in Newtown, PA and the basil–the only thing my not-so-green thumb can manage to successfully grow–is from my own garden.)
| | |
| --- | --- |
| Bucatini with Sun Gold Tomatoes and Pesto | |
Author:
Warm weather calls for simple cooking and it doesn't get much simpler than this pasta dish. The familiar flavors of sweet tomatoes and basil are the perfect complement to the thick, spaghetti-like pasta known as bucatini.
Ingredients
1 lb. bucatini, cooked according to package directions (I prefer Barilla)
1/8 c. pasta water, reserved
1 c. sun gold tomatoes
2 c. packed fresh basil leaves
2 cloves garlic
1/4 cup pine nuts
2/3 cup extra-virgin olive oil, plus 1 tbsp
Kosher salt and freshly ground black pepper, to taste
1/2 cup freshly grated Pecorino cheese (or parmesan, if you prefer)
Instructions
For pesto: Combine the basil, garlic, cheese, and pine nuts in a food processor and pulse until coarsely chopped. Add 2/3 cup of the oil in a steady stream and process until fully incorporated and smooth. Season with salt and pepper. (* This pesto recipe yields 1 cup; the unused portion can be kept in the refrigerator for a few days or frozen in an airtight container for up to 3 months.)
For pasta: Cook bucatini according to package directions; reserve 1/8 cup of the pasta water.
In a large sauce pan, pour 1 tablespoon of olive oil and heat over medium-high heat and sautee tomatoes until softened; approximately 4-5 minutes.
Add pasta and water to pan until pasta is heated through; approximately 1-2 minutes.
Remove pasta from heat and toss with 1/2 cup of pesto making sure to coat pasta.
Transfer to serving bowl or platter and serve immediately.