There is perhaps no better way to learn about French culture than in the kitchen and there's no more famous lentil than France's Le Puy variety. This recipe is a delicious way to become acquainted with the simple salads that are popular on French dining tables.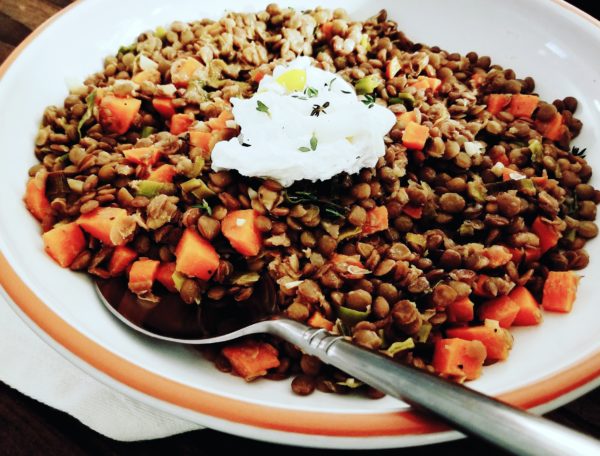 | | |
| --- | --- |
| | |
In a large saucepan or wok, heat oil on medium until it begins to shimmer.

Add onion, carrots, and celery, and sauté 4-5 minutes. Add garlic and sauté 1-2 more minutes.

Increase heat to medium-high, and add wine. Allow wine to simmer for 1-2 minutes, then lower heat to medium.

Add lentils, bay leaves, 2 tsp salt, and 2 cups water. Bring mixture to a boil, and simmer about 25 minutes until most of the water has cooked down and the lentils are tender.

While lentils are cooking, mix all vinaigrette ingredients together, and salt to taste.

When lentils are finished cooking, remove bay leaves and stir in vinaigrette.

Serve warm as a side dish, or with a loaf of hearty bread as a main course.
Notes: If you use a variety of lentil other than Le Puy, add 5-7 minutes of cooking time.
Also, you will notice that I added a poached egg because...well, yum. (Feel free to do the same; the runny yolk is delicious with the lentils.)