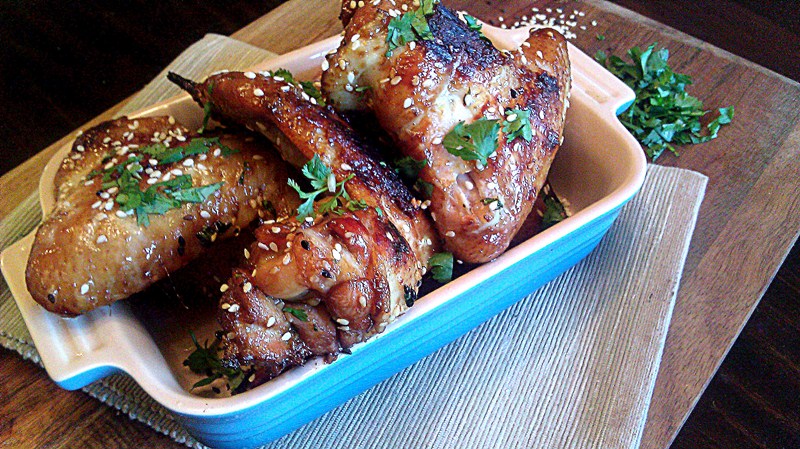 "Hi.  My name is Iris and I'm addicted to buying spices, condiments, herbs, and other pantry items."
If there was some type of "Anonymous" group for people who obsessively buy exotic spices and pantry items, I would be a card-carrying member.  It always happens the same way–I find myself in a store like Wegman's or Williams-Sonoma and I make a beeline for the spice area because, really, there's no such thing as too much harissa.  I stockpile crystallized ginger, whole vanilla beans, saffron (OK, maybe not saffron–my wallet won't allow for a saffron arsenal)–you get the picture.
Recently, I opened my cabinet and saw (among a million other things) 3 jars each of white and black sesame seeds.  There was also fresh cilantro in the vegetable drawer of my refrigerator after my weekend of salsa-making.  Something had to be done.  I mean, this was getting out of hand–I was starting to look like a hoarder.  A spice hoarder.  Has a nice ring to it, right?
So, in order to justify my obsession, I knew I had to use some of my stash in a recipe.  I had recently gone to a Thai restaurant and drooled over another couple's order and decided to try to recreate it at home.
| | |
| --- | --- |
| [RECIPE] Spicy Thai Chicken Wings | |
Author:
Spicy Thai chicken wings make the perfect main (or tailgating food) and is bolstered by fragrant cilantro, toasted sesame seeds, and a kick of sriracha.
Ingredients
8-12 whole chicken wings
1/4 cup vegetable oil
1/4 cup soy sauce
1/4 cup teriyaki sauce
1/4 cup dark brown sugar
2 tablespoons sriracha
3 tablespoons cilantro, chopped
1/2 tablespoon white sesame seeds, toasted in a dry pan until fragrant
1/2 tablespoon black sesame seeds, toasted in a dry pan until fragrant
Zest of 1 lime
Instructions
Preheat oven to 400 degrees F. Wash chicken wings under cold water and pat dry; place in ziploc bag.
In a medium bowl, mix all of the marinade ingredients together and pour over chicken wings, seal bag, and give it a few good shakes making sure to coat all of the chicken. Refrigerate for at least 2 hours (but up to 24 hours).
Place wings on a baking tray and bake for 20-22 minutes, turning them halfway through. The wings are done when they appear to be shiny and have a slightly crispy edge.
Notes
**You can garnish with lime wedges, more cilantro, and/or scallions if you wish.