There are a few widely accepted harbingers of summer–the whimsical jingle of an ice cream's truck tune, the full blooms of flowers signaling the reawakening of nature and of course the abundance of jewel-toned produce. Here on the east coast, this past winter was a rough one–brutal temperatures made even the most devout lovers of cold weather long for the sunshine (and food) of summer.
So here we are–summer's in full swing and the produce is at its height in terms of availability and taste. Why not celebrate the season with a twist on the classic Caprese salad?
In case you're not familiar, a traditional Caprese salad is a simple dish of sliced tomatoes, mozzarella and basil drizzled with olive oil and balsamic vinegar; its colors are made to resemble the Italian flag.
This salad still has the same elements–fruit, cheese and basil–but with a few variations. (Can you say fried mozzarella?) The salad gets its lovely acidic notes from an aged balsamic vinegar sent from Emilia Delizia–an Italy-based culinary food tour company. The balsamic does a fine job of pulling this salad together and providing exactly the right amount of sweet and savory.
As for the twist on this traditional dish, it does indeed call for lightly frying the mozzarella. Sweet, juicy nectarines and fried cheese? Yes, please!
What foods do you enjoy in the summertime? What fruits and vegetables are you currently obsessing over?
**While a sample of the balsamic vinegar was generously provided by Emilia Delizia, all opinions are my own.**
Nectarine, Basil and Fried Mozzarella Caprese Salad
Print recipe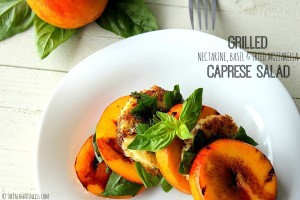 Ingredients
For the Balsamic Syrup
1/2 cup Balsamic vinegar
1 teaspoon Brown sugar
For the Nectarines
4 Large Nectarines (or peaches) (sliced into 1/4-inch thick rounds)
12 Large Basil leaves
12oz Fresh mozzarella (sliced into 1/4-inch thick rounds)
1 cup Panko bread crumbs
1/4 cup Flour
1/3 cup Parmesan cheese (grated)
2 tablespoons Dried parsley
2 Eggs (beaten)
1/2 teaspoon Sea salt
1/2 teaspoon Freshly ground black pepper
1/4 teaspoon Cayenne pepper
Note
Adapted from Half Baked Harvest
Directions
Step 1
Add vinegar and brown sugar (if using) to a small saucepan and bring to a boil. Reduce to a very low simmer and cook for 10-15 minutes, until liquid reduces by about half and is slightly syrupy (should coat the back of a spoon). Remove from heat, pour vinegar in a bowl or glass to pour, and set aside to cool and thicken.
Step 2
In a large bowl, combine panko, flour, parmesan, parsley, salt, pepper and cayenne (if using), mixing thoroughly to combine. In a small bowl, lightly beat the eggs. Take each slice of fresh mozzarella and coat it in the beaten egg, then dredge it through the bread crumb mix, pressing on both sides to adhere. Repeat with the remaining slices.
Step 3
Heat a large skillet or grill pan over high heat. Add 1 teaspoon of olive oil and sear both sides of the nectarines for 1-2 minutes until just warmed, but still somewhat firm. Alternately, you can grill the nectarines directly on a grill. Keep the nectarines warm in an oven set at 200 degrees F.
Step 4
Add the remaining olive oil to the skillet and when hot, fry coated mozzarella, turning carefully with a spatula once or twice, until golden and cheese starts to melt but still retains its shape, about 1 minute on each side. Drain on paper towels.
Step 5
To assemble, arrange on a plate by alternating the nectarines, basil and mozzarella. Repeat the arrangement for each serving. Garnish with basil and freshly grated pepper. Drizzle on the balsamic glaze.