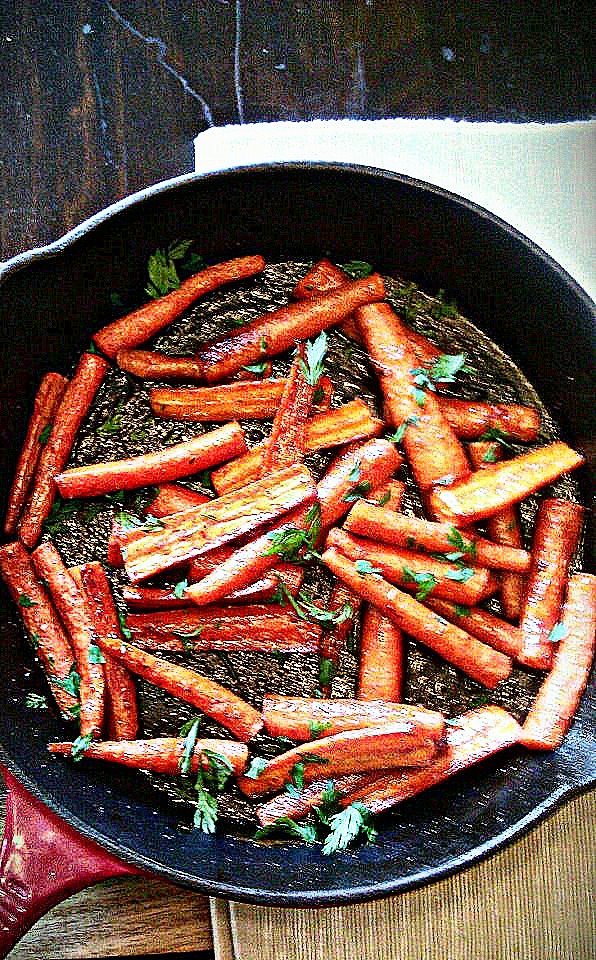 As far as vegetables go, carrots often get the short end of the stick.  Typically relegated to the space on the plate reserved for boring side dishes, they're neither flashy nor as comforting as, say, mashed potatoes.  Really, if simply cooked and undressed, carrots can be downright underwhelming.  I'm not a carrot hater–truly I'm not.  I have loved them since I was child when I would consume them religiously hoping that they would help me win the battle against my severe astigmatism and let me escape the adolescent tragedy of wearing glasses.  They did not.  Nevertheless, I didn't take it personally–I still love them.
With this recipe, while still technically a side dish, carrots get a reprieve from their wallflower status and get all sassy and spicy with a few ingredients that are common in North African cooking but just as likely to be found in your home pantry.
MOROCCAN-SPICED CARROTS
(as adapted from the "Vegetable Creations" volume of the Cooking Club of America series)
Ingredients:
2 tbsp fresh lemon juice
1 tbsp fresh orange juice
2 tbsp honey
2 tbsp olive oil
½ tsp ground cumin
½ tsp salt
¼ tsp cinnamon
6 large carrots, washed
3 tbsp leafy green carrot tops, chopped
Preparation:
Preheat oven to 375°F.
Combine lemon juice, orange juice, honey, oil, cumin, salt, and cinnamon in medium bowl; mix well.  Thoroughly scrub carrots (no need to peel), slice lengthwise, and cut into halves.  Add carrots to mixture and, using hands, toss until well-coated.
Pour carrots and remaining liquid into oven-safe pan (I used a cast iron skillet) and roast until tender and caramelized, approximately 40 minutes.  Remove from oven and garnish with leafy green tops.  Serve immediately.