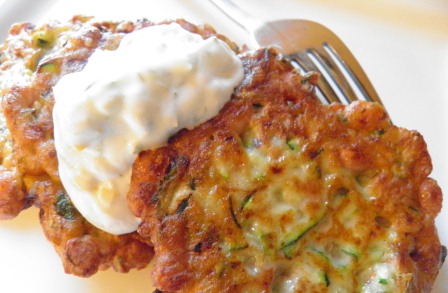 I've never been much of a meat eater–certainly not for moral reasons; it's just never been a huge part of my diet.  For the past 6 months or so, my kitchen cupboard has been overflowing with beans, peas and lentils.  Do chickpeas trade on the stock exchange?  If so, I need to invest–I can't get enough of them!
One of my favorite local restaurants Sprig & Vine–a vegetarian/vegan restaurant in New Hope, PA–creates the most flavorful, beautiful meatless dishes I've ever had the pleasure of eating.  What I love about this place is that it's not all smoke and mirrors–they don't try to make vegetarian/vegan food in meat's image.  You won't find tofu rolled into the shape of a hot dog or tempeh mechanically-pressed to mimic bacon.  The folks here get it right and allow vegetarian food be just what it is–natural, wholesome, and tasty.  When it's done right as it is at Sprig & Vine, it's sublime.
Last week, I was jonesing for the zucchini and black-eyed pea fritters but I didn't have time to trek all the way to New Hope.  What was a girl to do?  I poked around my kitchen and realized I had all the necessary ingredients and I was ready to rock and roll.  That is, after I did a happy dance and congratulated myself for being such a smart grocery shopper.  The recipe is super simple and, while it makes a great side dish, it's filling enough to stand on its own.  I also whipped up a Greek yogurt sauce to go with the fritters because–well, I love Greek yogurt.  So, here goes:
ZUCCHINI AND BLACK-EYED PEA FRITTERS
Ingredients (fritters):
3 cups oil for frying
1 small zucchini shredded
1 can of black eyed-peas (drained)
1 large egg
3 tablespoons all-purpose flour
Salt to taste
Pinch of cayenne pepper
Preparation:
In a large frying pan, heat oil on medium-high.
Mix all ingredients in a large bowl until well combined.
Drop by heaping spoonfuls into hot oil and pat into patties with a spatula.  Fry until golden brown and flip (approximately 3 minutes on each side).  Drain on paper towels & serve immediately.
Ingredients (for yogurt sauce):
1/2 cup Greek yogurt (I prefer Oikos or Fage)
1 teaspoon chopped fresh mint
1 teaspoon fresh dill
1 tablespoon minced preserved lemon (If you don't have preserved lemon lying around, use fresh lemon peel).
Preparation:
Mix all ingredients in a small bowl and chill until ready to serve.