OXO Good Grips Egg Beater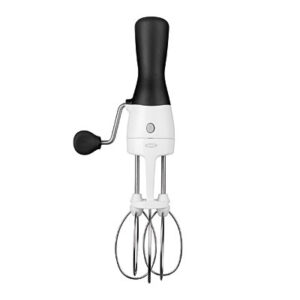 Disclaimer: Although I am happy to review sponsors' products, in order to maintain the integrity of this website, all products reviewed will be done so honestly.  No endorsement is implied unless expressly stated.
Everything old is new again!  Just in time for the holidays, OXOhas released an updated version of the classic handheld egg beater.  As more and more of our kitchens begin to look like commercial test labs with our shiny, high-end advanced cooking gadgetry, it is nice to see a tool that hearkens back to a simpler time.
Old-fashioned egg beaters have long been relied upon for perfectly aerated egg whites and fluffy snowpeak-like whipped cream.  Now the OXO Good Grips Egg Beater combines the same dependable results with innovation and ease.  Unlike the old-school egg beaters, this latest release from OXO features smoothly rotating gears are enclosed in the upright handle for protection and easy clean-up.  The turning knob and contoured handle have a soft, comfortable, non-slip grip for easy operation even with wet "kitchen hands".  The two stainless steel beaters can be removed for individual cleaning or to offer a taste of whipped confections to those wanting to sneak a little taste of something sweet.  Clean-up is effortless with a detachable base that is activated by simply pressing two buttons and tossed in the dishwasher.
Eggs, light batters, whipped cream and more are now such a breeze to whip up that even the next generation may want to take a turn.
Product Name: OXO Good Grips Egg Beater
Suggested retail price: $19.99
Rating: 4 out of 5