I realize that I'm late to the party on this one, but I've only come to love like New York in recent years.  Given the fact that much of my extended family lives in NYC, you can imagine the ire that my long-standing disdain of the place has drawn.  Trust me, they've tried to persuade me and convince me to change my mind about The City That Never Sleeps; I've heard it all from, "I just love the energy of the city!" to the somewhat arrogant "This is the greatest city on Earth!" On Earth?  Really? We may have to agree to disagree on that one.  However, I have to admit, no arguments have been more persuasive than the food-related ones.
As a girl who spends a fair amount of time dining in Philadelphia, I always get a little defensive when I hear New Yorkers brag about their "superior" dining scene but I must (grudgingly) confess that there are some pretty stellar dining options in Gotham not to mention the bagels, pizza, delis, and food trucks.
Recently, on one of those perfect cold and rainy nights that seem to be the backdrop for every romantic comedy, I found myself on the doorstep of Hearth–chef Marco Canora's little East Village gem–seeking something warm and comforting.  The aroma, sparse but packed dining room, and crowd of eager umbrella-toting diners gathered by the bar confirmed I had stumbled upon the right place.
What happened next was kind of magical (save for an amuse bouche of underwhelming broccoli soup topped with a jarring slick of olive oil).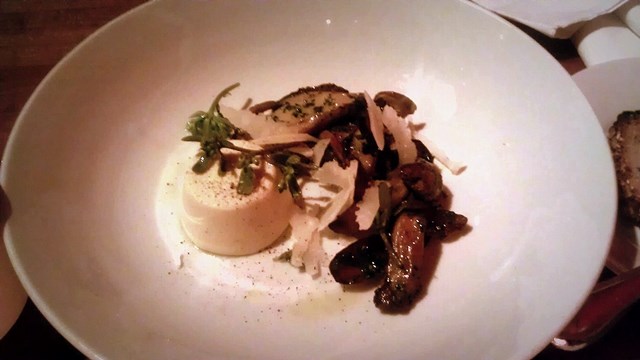 Up first was the porcini trifolati with ricotta sformato, gremolata, and Grana Padano; the word trifolati is an Italian cooking term that denotes frying in olive oil, garlic, and parsley and sformato is a kind of savory, airy pudding.  As a mushroom lover, I was bowled over by the earthiness of this dish–it was savory with a nuttiness from the Grana Padano; the silkiness of the sformato added some textural interest to the dish.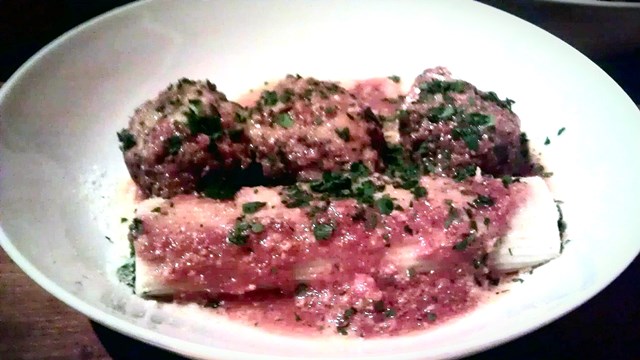 Any Italian nonna would be proud to have a plate of Canora's hearty veal and ricotta meatballs on her table, but the spinach cannelloni suffered from a lack of cheese in the filling which made for a disappointing and fairly dry tube of pasta.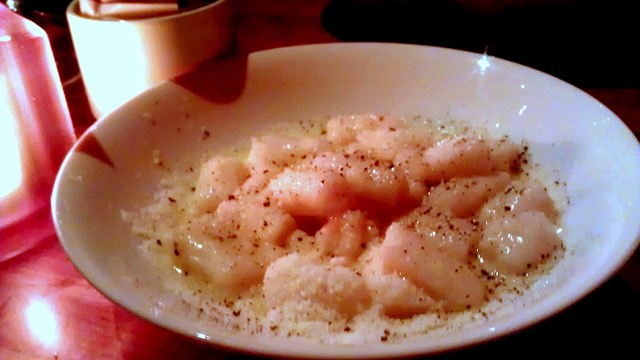 Chef Canora's gnocchi are legendary and, though offered on the menu as a side, these billowy pillows of goodness are light but filling enough to stand alone as a main.  If you order nothing else, you must try these. (Beware the subsequent food coma, though.)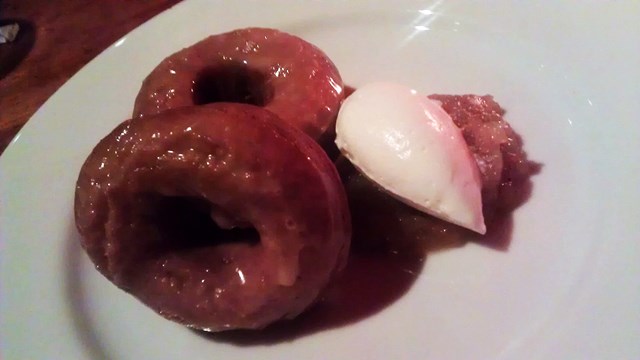 This is the shameful part of the meal–shameful because I actually ordered dessert even though I truly had no room.  After a couple of deep breaths, I tucked into the sticky, warm apple cider doughnuts that offered a taste of autumn in every bite.  The apple compote and quenelle of ice cream capped off  the perfect dessert.
Whether you're a die-hard lover of the New York dining scene or–like me–a recent convert, you need to add Hearth to your repertoire quickly.  As in, a New York minute.