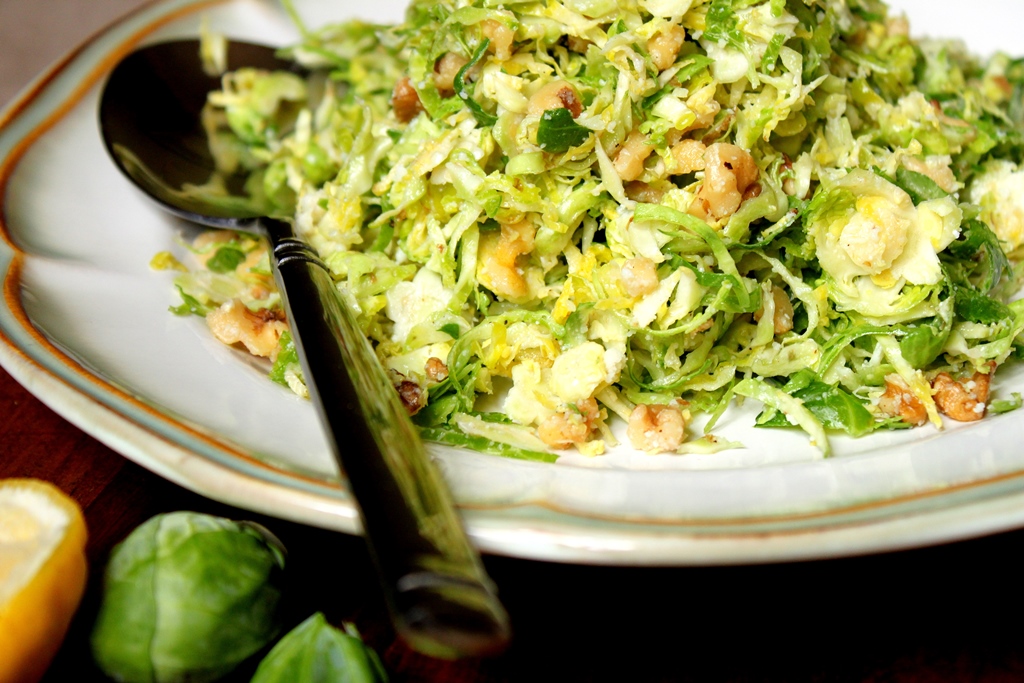 Like most of the meals I make at home, this salad is simple to make. Seriously, preparation could not be any easier. I will mention, however, that the most important thing you need for this salad is not an ingredient but a tool–a mandoline to be specific. While you have to be careful to keep your fingers out of the way, the mandoline will thinly slice the Brussels sprouts in a way that most of us who don't possess the knife skills of a Japanese sushi chef would never be able to achieve on our own.
This salad is perfect as a side and requires–wait for it–absolutely no cooking. Look, I love to cook but there are some days when my stove and I are not on speaking terms and great meals don't always require cooking. Am I right?!  I found this lemony Brussels sprouts salad on Food52–my favorite drool-worthy food site–and modified it a bit.
Brussels Sprouts Salad with Lemon
Print recipe
Ingredients
Juice of 1 lemon
Zest of 1 lemon
1 tablespoon Honey (I prefer wildflower honey)
1 tablespoon Dijon mustard (I prefer La Maison Maille)
1 tablespoon Olive oil
3.5 cups Brussels sprouts (use larger sprouts, if possible)
1/2 cup Pecorino (finely grated)
1/4 cup Walnuts (coarsely chopped)
Salt & freshly ground pepper
Directions
Step 1
In a small bowl, whisk together the lemon juice, honey, mustard and a pinch of salt and pepper. Whisk in the olive oil until the dressing is thoroughly blended. Set aside.
Step 2
Trim all of the Brussels sprouts, removing any bruised outer leaves and slicing off a good portion of the hard root end. Using a mandoline, carefully shave the sprouts one at a time. When you're done, use your fingers to gently separate the leaves so that the shredded sprouts resemble a very fine slaw.
Step 3
Put the sprouts in a serving bowl and toss gently with the walnuts and the dressing. Fold in the pecorino, taste and adjust seasonings if necessary. Garnish with lemon zest. Serve immediately, before it starts to wilt.