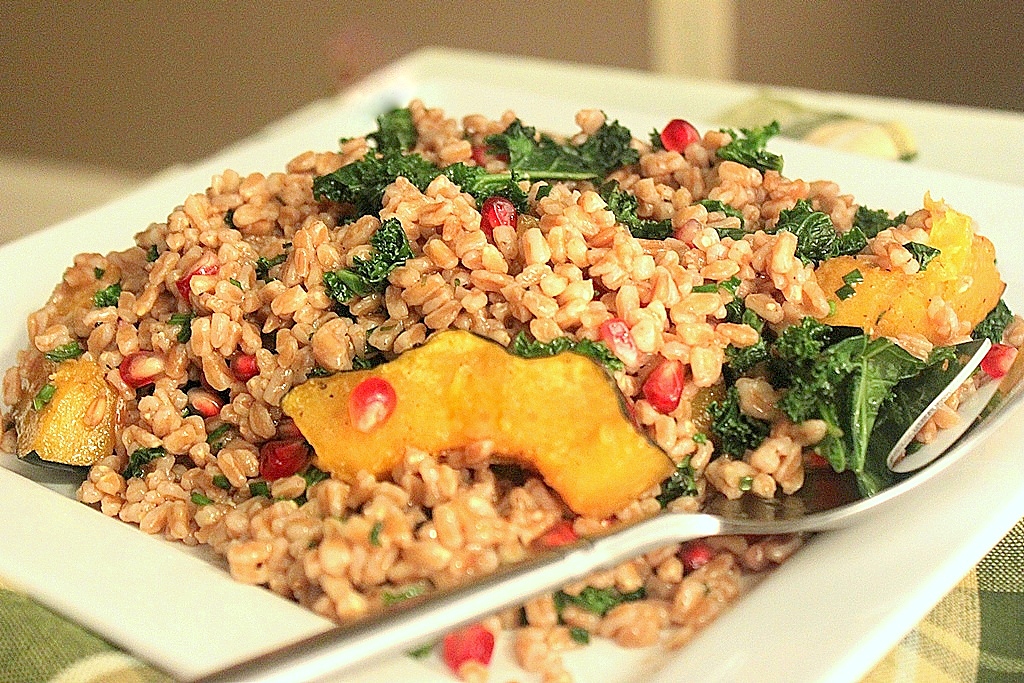 Exciting news! I just signed on to be a writer for Potluck–the food blog of family-owned über-grocer ShopRite. The blogger panel is made up of food enthusiasts who are dedicated to using ShopRite's line of quality products to create great meals. My posts will appear on the Potluck blog site but I will also reprint them here on my site (in whole or in part) as well. I encourage you to visit Potluck and check out the great posts from the rest of the blogger panel–it's a pretty creative group of foodies!
Having grown up in Delaware, ShopRite was a constant presence and one of my family's favorite grocery stores. Now that I'm a Pennsylvania resident, I continue to shop at my local ShopRite and am constantly amazed at its ever-expanding line of products. From organics to hard-to-find, exotic ingredients, a stroll down the grocery aisle is never a dull one. As a blogger for Potluck, I will be sent various products on a regular basis and create dishes using ShopRite groceries. Think of it like the Food Network show Chopped, complete with a mystery box.
I received my first delivery yesterday and was pleased to find four different bags of grains (quinoa and farro to be exact). I cook a lot of quinoa but I had never cooked farro at home, so since I love trying new things, I opted to use the farro. Now I've eaten plenty of farro so I decided create a salad using the flavors and produce of autumn. This salad has a lot going on in terms of texture–the slight bite of the al dente farro, the softness of the roasted acorn squash and the crisp tang of the pomegranate seeds ensure that your palate won't get bored.
Farro Salad with Acorn Squash, Kale & Pomegranate
Print recipe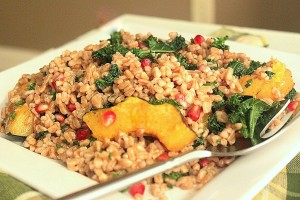 Ingredients
For the Salad
1 cup ShopRite 100% whole grain farro
3 cups Water
3 teaspoons Salt
Pepper (to taste)
1 teaspoon Extra-virgin olive oil (plus more to taste)
1 Medium Acorn squash
1/4 cup Pomegranate seeds
4 cups Kale (torn into bite-size pieces)
For the Vinaigrette
1/4 cup Fresh chives (chopped)
2 tablespoons Balsamic vinegar
1/4 cup Extra-virgin olive oil
Salt & freshly ground pepper (to taste)
Directions
For the Salad
Step 1
Preheat oven to 400°F.

Wash the acorn squash and slice lengthwise. Using a spoon, scoop out seeds and stringy flesh; discard. Slice squash into 1/2-inch thick crescents; place slices on a baking sheet and drizzle with extra-virgin olive oil then sprinkle with 1 teaspoon salt and pepper (to taste). Roast in oven on middle rack for 20 minutes, flipping slices halfway through.
Step 2
Under running water, rinse the farro thoroughly. Combine the water and farro in a medium saucepan; add 2 teaspoons of salt. Bring to a boil over high heat. Reduce the heat to medium-low, cover, and simmer until the farro is tender, about 20 - 25 minutes. Drain well, and then transfer to a large bowl to cool.

In a large pan over a medium-high flame, heat approximately 1 teaspoon of extra-virgin olive oil. Add kale and stir until wilted; approximately 2 - 3 minutes.

In a large bowl, add the squash, pomegranate seeds, and kale to the farro; toss to combine.

In a medium bowl, whisk together the balsamic vinegar, chives, salt, pepper, and olive oil. Add the vinaigrette to the salad and toss to coat.

The salad can be refrigerated overnight. Bring to room temperature before serving.

IMPORTANT NOTICE: ShopRite provides POTLUCK™ bloggers with free products, offers and services for the bloggers to review.