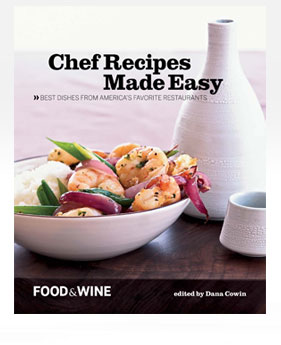 We've all done it.  We've sat in front of the TV and watched chefs work their onscreen magic and effortlessly create amazing meals in seemingly no time at all or enviously thumbed through a cookbook and lamented over the complicated recipes.  Exotic ingredients and overly-technical instructions can be intimidating to the average home cook–making many chefs' recipes too complicated to properly execute at home.
Thankfully, FOOD & WINE Magazine has recently released Chef Recipes Made Easy—a collection of pared-down recipes from a group of renowned chefs that make it easy to look like a top toque at home.
In this collection of fantastic recipes from FOOD & WINE Magazine, you'll find the chef recipes you love, all simplified and perfected in the F&W Test Kitchen.
HIGHLIGHTS INCLUDE:
– Recipes from superstar chefs
– A great mix of international flavors including French, Italian, Indian, Vietnamese, Moroccan, Mexican and more
– Accessible, fail-safe wine pairings from our resident experts that ensure you make the perfect match every time
Salivating yet?  Thanks to American Express Publishing, I am giving away one (1) copy of Chef Recipes Made Easy to a lucky reader.  You have from now until midnight Tuesday, July 31st to enter; a winner will be selected and notified on August 1st.  Entering to win is simple; see instructions on how to enter below:
– Leave a comment on the giveaway post with your name, primary e-mail address, and contact information
– Follow @PalatePrincess on Twitter
– 'Like' The Palate Princess on Facebook
– Subscribe by email to ThePalatePrincess.com (located in the right sidebar on the homepage)
– Leave a comment on this post about the most complicated recipe you ever attempted (successfully or not)
You must complete the mandatory entry criteria or your entry will be disqualified and deemed null and void.  Mandatory entry requirements will equal 1 contest(s)/giveaway(s) entry. (Mandatory entry requirements subject to change at any time.  Please refer to each individual giveaway/contest for exact mandatory entry requirements).  Please note that mandatory and bonus criteria are subject to change at any time.  For a complete list of contest rules and disclosures, click here.
Good luck!