The following review is a sponsored post. Though I was compensated, all thoughts and opinions are my own.
Many people know me as a "Philly food writer"–the fact of the matter is I actually live an hour north of the city. For those of you familiar with Pennsylvania's geography, you understand that I pretty much live in the middle of nowhere. Because I spend much of my time during the week on the road and going out to restaurants, I usually reserve a weekend or two every month for relaxing at home and ordering in. There's only one problem. There are only a couple–and I mean that literally–restaurants in my area that deliver so when I was contacted by BringMeThat.com, a new food delivery service, and informed of their partnership with local restaurants, my interest was piqued.
If you're like me, you probably have a designated drawer in your kitchen that holds all of your takeout menus for those "I-don't-feel-like-cooking" and "yucky weather" nights. (Am I right?) The great thing about BringMeThat.com is the fact that participating restaurants' menus are already listed on the site–no more searching for that paper menu. The site itself is fairly straightforward; customers can type in their address to get a list of participating restaurants, click and begin ordering. After an order is placed, BringMeThat.com contacts the restaurant to ensure that the order went through properly and charges the order through its own account (an individual's credit card information is never shared). Once the restaurant has confirmed the order, an e-mail with the order details is automatically generated and sent to the customer.
In all honesty, placing an order got a tad sticky for me. When you click on a menu item, a box pops up in which you can type any special instructions you may have (see below) and you can also adjust the quantity of the item. However, there is no 'OK' or 'Submit' button so you're sort of left to wonder where you go from there. (You have to hit enter in order to submit the menu item.) I think it would be an easy fix to add this bit of functionality to the site–there's no better way to build a loyal fan base than providing a seamless customer experience that allows the individual to access information quickly and easily.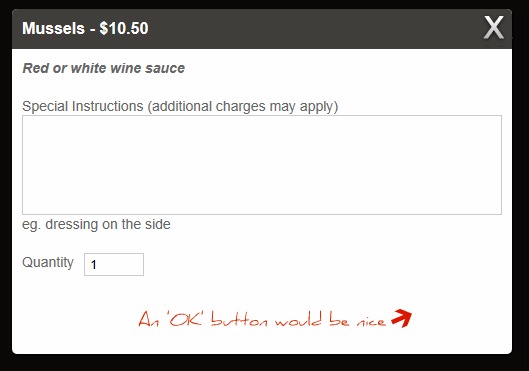 Also, because I was doing a review of this service, I called the restaurant myself to confirm the order and the owner said his restaurant "didn't have online ordering" and that he had "no idea" what I was talking about when I mentioned BringMeThat.com. That struck me as odd–as a customer, it made me nervous that the owner wasn't aware of the partnership. A quick chat with a BringMeThat.com customer service rep (the site offers online chat capability) resolved the issue quickly–the rep called the restaurant and confirmed the order for me. Perhaps it was a misunderstanding or maybe the restaurant is a new participant and kinks are still being ironed out but going forward, I think this is an issue BringMeThat.com needs to address.
Overall, using the service was fairly enjoyable and the food was delivered promptly (long before the promised time of 45 minutes). Currently, BringMeThat.com's service is only available in cities in Delaware, North Carolina, New Jersey, Ohio and Pennsylvania but the company is rapidly expanding their territory so keep an eye out for new places if you don't see your city listed.