Not too long ago, I visited Louisiana and opted to skip most of the touristy spots (not because they're overrated–you must get beignets at Café du Monde and strut down Bourbon Street–but because I've already done those things on my previous trips to The Big Easy) and hit a long stretch of highway and head to the heart of Cajun country. Places like Houma, Kenner and Des Allemands offer an authentic bayou experience and it's also where you can get a sense (and taste) of real Cajun cooking.  While I was there, I did what any self-respecting food lover would do–I bought a suitcase full of Creole and Cajun spices, hand-blended and packaged right on the bayou.  Filé powder, Creole seasoning (used in this recipe), seafood boil–you name it, I bought it.
Many of those wonderful, aromatic spices have been collecting dust on my spice rack since I returned.  Truthfully, I really didn't need everything I purchased, but who could pass up those spice blends?
So, in this recipe I put some of those seasonings to good use to create a sublime rendition of the treasured classic shrimp and grits.  I will warn you, though; this recipe is a bit time-consuming and labor-intensive but the results are well worth the elbow grease.
Creole Shrimp & Polenta
Print recipe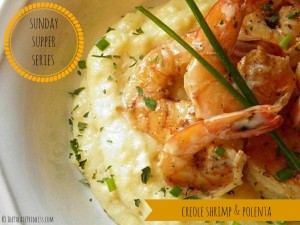 Bring home the rich taste of the bayou in this Creole recipe adapted from Emeril Lagasse.
Ingredients
For the shrimp and sauce
3lb Large Gulf shrimp (in their shells)
2 tablespoons Creole seasoning (can be found in most specialty grocery stores)
Cracked black pepper (to taste)
2 tablespoons Olive oil
1/4 cup Chopped onion
2 tablespoons Minced garlic
3 Bay leaves
3 Lemons (peeled and sectioned)
2 cups Water
1/2 cup Worcestershire sauce
1/4 cup Dry white wine
1/4 teaspoon Salt
2 cups Heavy cream
2 tablespoons Unsalted butter
1 tablespoon Chopped fresh chives
1 tablespoon Chopped fresh parsley
For the polenta
2 cups Water
1 cup Chicken stock
1 teaspoon Salt
Directions
For the shrimp and sauce
Step 1
Peel the shrimp, leaving only their tails attached. Reserve the shells and set aside. Using a sharp paring knife, split the back of the shrimp and remove the vein. Sprinkle the shrimp with 1 tablespoon Creole seasoning and fresh cracked black pepper. Use your hands to coat the shrimp with the seasonings. Refrigerate the shrimp while you make the sauce base.
Step 2
Heat 1 tablespoon of the oil in a large pot over high heat. When the oil is hot, add the onions and garlic and sauté for 1 minute. Add the reserved shrimp shells, the remaining Creole seasoning, the bay leaves, lemons, water, Worcestershire, wine, salt, and black pepper. Stir well and bring to a boil. Reduce the heat and simmer for 30 minutes. Remove from the heat, allow to cool for about 15 minutes. Strain into a small saucepan. There should be about 1½ cups. Place over high heat, bring to a boil, and cook until thick, syrupy, and dark brown, for about 15 minutes. Makes about 4 to 5 tablespoons of sauce base.
Step 3
Heat the remaining tablespoon of oil in a large skillet over high heat. When the oil is hot, add the seasoned shrimp and sauté them, occasionally shaking the skillet, for 2 minutes. Add the cream and all of the sauce base. Stir and simmer for 3 minutes. Remove the shrimp to a warm platter with tongs and whisk the butter into the sauce. Remove from the heat. Spoon a large ladleful of polenta into a shallow bowl; mound shrimp on top. Spoon the sauce over the shrimp and around the plate. Garnish with chopped chives and parsley.
For the polenta
Step 4
Add 1 cup of water and 1 teaspoon of salt to a large saucepan. Whisk in 1 cup of corn meal.
Step 5
In a small pot, mix 1 cup of water and 1 cup of chicken stock over high heat; bring to a boil. Add boiling water/stock mixture to cornmeal. Heat the mixture on medium heat, stirring constantly for 15-20 minutes, or until desired consistency is reached; serve hot with shrimp.