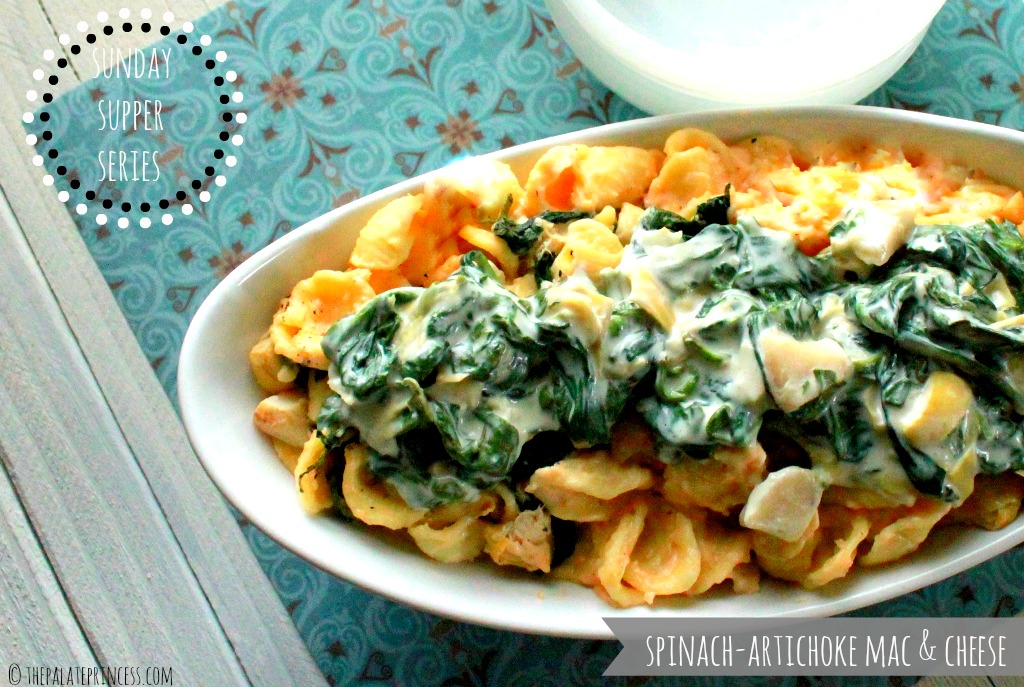 OK, first things first: This is technically not mac and cheese because, truthfully, there's no mac–as in there's no macaroni. Wait, what?? Typically, I'm a mac and cheese snob–I hate when various types of pasta–farfalle, penne, etc. are used in place of good ol' traditional macaroni. Don't even get me started on fusilli.
Well, today I broke my rule and substituted orecchiette ("small ear" in Italian due to its shape) in this recipe because that was the only suitable pasta in my pantry. I wish I had some fancy, super-eloquent reason but there you have it. In fact, the dish defies everything traditional mac and cheese is supposed to be–I know, I'm such a rebel. (Hey, at least it's not the stuff from the blue box.) This recipe combines the best of both worlds–spinach artichoke dip and mac and cheese. Seriously, does it get any better?
So, if you're looking for a more grown-up mac and cheese, this is the recipe for you. If you're looking for the neon orange-colored stuff of our childhoods, this probably isn't the recipe for you.
Spinach Artichoke Mac & Cheese
Print recipe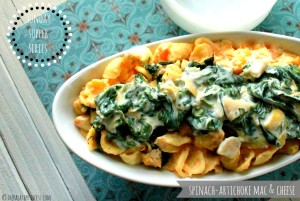 This spinach and artichoke mac & cheese combines the best of both worlds--spinach artichoke dip and mac & cheese. It's comfort food at its best.
Ingredients
1 tablespoon Olive oil
1 bag Fresh spinach, roughly 6 ounces
1 - 14 oz. jar Artichoke hearts, drained, rinsed, roughly chopped and divided
1/2 cup Cream cheese, softened
1 cup Parmesan, shredded and divided
2 tablespoons Shallots, minced
2 tablespoons Garlic, minced and divided
1 - 12 oz. box Orecchiette pasta
3 tablespoons Butter
3 tablespoons Flour
2 1/2 cups Milk
1 teaspoon Dry mustard
1/4 teaspoon Pepper
1 cup Cheddar of your choice, shredded (I prefer Cabot sharp cheddar)
1 cup Havarti, shredded
1 tablespoon Sriracha
Directions
Step 1
Preheat oven to 400°F. If using fresh spinach, heat olive oil in large sauté pan over medium heat, add spinach and wilt. Remove to plate to cool. Squeeze excess water from spinach. Set aside.
Step 2
In small bowl, combine half of drained spinach and half of chopped artichoke hearts. Stir in softened cream cheese and ½ cup Parmesan cheese. Stir in shallots and 1 tablespoon garlic. Pour mixture into oven-safe baking dish and bake for 15 minutes or until the mixture is toasted on top and heated through. Remove from oven; cover to keep warm and set aside.
Step 3
Meanwhile, cook pasta according to package directions; drain and set aside. In medium pot, melt butter and whisk in flour. Continue whisking vigorously over medium high heat until roux becomes golden brown. Add milk slowly, 1/2 cup at a time, whisking during each addition. Bring mixture to boil. Add mustard, pepper, 1 tablespoon garlic, remaining cheeses and sriracha. Stir in reserved spinach and artichokes, mixing until evenly incorporated.
Step 4
Pour pasta into cheese mixture; mix to ensure all pasta is coated evenly. Plate and top with a generous spoonful of warm spinach and artichoke mixture. Serve and pig out (I mean, enjoy)!