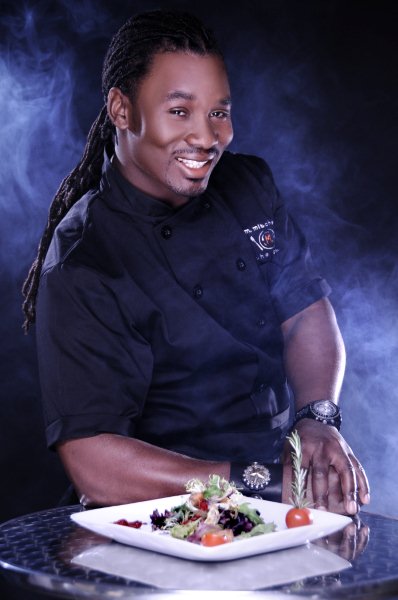 No matter how you feel about Food Network's programming (and why it seems as if celebrity chef Bobby Flay has no less than 30 shows on the network), its food competition shows are entertaining (and mildly addictive).  Food Network Star, easily one of the network's most popular shows and responsible for launching the career of the boundlessly energetic Guy Fieri, has seen an interesting parade of contestants over the years and perhaps not one has been as charismatic (and cocky) as the man known simply as "The Chef."
Malcolm Mitchell, private chef and founder of District of Columbia-area based healthy school lunch initiative Brain Food, has an energy and enthusiasm that's infectious.  When listening to his impressive roster of celebrity clients, it soon becomes clear why he needs all of that energy–his client list is diverse and demanding and often has him delving into a variety of cuisines and special diets.  (Perhaps it's his affinity for learning about an array of cuisines and refusal to conform to just one style of cooking that was responsible for his Food Network Star downfall, but more on that later.)
A conversation with the Food Network Star finalist reveals a thoughtful, confident man whose wears his love for food on his sleeve.  He talks about his culinary influences, his career and future endeavors (he still maintains strong ties with Food Network) with such enthusiasm and at such a dizzying pace, it's hard to keep up.  And, yes, he opens up about his elimination from Food Network Star for not adopting a clear culinary POV (point-of-view) and how defying the advice of Food Network executives was the best decision he ever made.
Note: This interview was conducted on September 3, 2012 and has been condensed and edited from its original form.
The Palate Princess: First and foremost, I apologize for my voice. I caught a cold and I sound horrible.
Malcolm Mitchell: [skeptical] Hmm, sounds like a hangover to me.
TPP: No, definitely not. Speaking of hangovers, I heard it was your birthday yesterday.  That makes you 42 years old–you definitely don't look your age. What's your secret?
MM: [laughing] Yes, my birthday was yesterday; I had fun.  I should sound like you–I should have a hangover.  My secret?  Good eating.
TPP: You spent 4 years in the Navy and then decided to become a chef upon leaving.  Did being in the military somehow inspire you to cook?
MM: Well, the Navy travels.  There are people in different branches of the Armed Services that may be stationed overseas but never really travel outside of the military base, but I got a chance to experience different cuisines and different styles of food.  I traveled to Abu Dhabi, Bahrain, Portugal, Spain, Denmark, Sweden, Israel–you know.  Every time we got off the ship, the first thing other guys wanted to do was go to bars and strip clubs.  Me?  I wanted to go somewhere to eat, you know what I mean?  So, every place I went–I just wanted to try their food.  That really got my tastebuds salivating and I would go home and try to recreate that.
TPP: Having been exposed to a number of different cuisines, is there one that you just can't wrap your tastebuds around?
MM: Hmm…well, I'll tell you.  We were in Abu Dhabi I think and we were eating what we thought were regular hamburgers–you know, cow hamburgers.  But, they weren't–the burgers were mushy and we found out they were made from goat so that was…talk about a shock…it was…blech.
TPP: Who are your culinary influences?
MM: Definitely my mother.  I tell people all the time that she's where I get my soulful side.  Growing up, I remember complaining to my mom that there was nothing to eat in the house and she would go to refrigerator and, 30 minutes later, I would be eating an awesome meal.  That inspired me.  Also, I am a classically-trained chef and do have a degree, and they [culinary instructors] teach you more about techniques and styles of international cuisines and things of that nature, so school was a major influence because it gives you a background and history on where everything started.  It definitely helped me build my culinary style.
TPP: Speaking of cooking styles, I'm going to mention 3 letters you probably never want to hear again: P-O-V.  Why was it so hard for you to pick a culinary point-of-view on Food Network Star?  Why the struggle?
MM: [laughing] Nope, POV isn't hard for me to hear–I wear it on my shirt everyday.  Seriously.  I'm going to answer that question off-the-record…well, no…you can write whatever you want.  I didn't struggle with picking a POV.  I'll give you some behind-the-scenes stuff that'll help you understand the POV issue.  First things first, you have to understand that I cook for all types of people–celebrities, athletes, kids, people with special dietary restrictions.  I was hired to open the first Kosher food truck in DC.  So, when you hear that–how is it possible to pick just one POV?
TPP: Are you saying that your background is too diverse to be categorized?
MM: Right.  Bobby Flay [chef and Food Network icon] asked me if I had a cooking show, what would I name it and I said, "Simple and Soulful."  Well, I said that for a reason–it was a play on words, but as soon as you see me–an African-American man with locs–you think soulful means soul food.  Soulful, to me, means food that's not hollow–food that has depth and flavor–not necessarily soul food.  What you didn't get to see–what was edited out–was Food Network wanted my food to look like me.  They wanted me to make soul food and I had conversations about it with Bob [Tuschman, Senior VP of Food Network] and Susie [Fogelson, Senior VP of Marketing, Creative Services, & Brand Strategy], but do you think they were going to show that?
TPP: So, you sacrified winning the competition to stay true to your personal culinary philosophy?
MM: Yes, I did.  I stayed true to myself and kept it real–what you saw was 100% Malcolm.  I went on the show to enhance my brand and that's what I did.  How would just cooking soul food have enhanced my brand?  I love the fact that they said I didn't have a POV–that means I didn't sell out.  The last thing the world needs to see is another African-American on television cooking fried chicken and collards.  We have enough of that and…[pauses]…I'm not trying to knock the Neelys [Gina and Pat Neely, African-American Food Network hosts and owners of a chain of soul food/BBQ restaurants] but…we don't need to see that all of the time.  We just need to see a broader spectrum of African-American chefs cooking things other than stereotypical food.
TPP: Your elimination from Food Network Star was heartbreaking for a lot of your fans.  Do you still have a relationship with Food Network and can we look forward to a collaboration in the near future?
MM: I can only speak for myself [and not the other eliminated contestants], but no it's not over.  Let me tell you, this [Food Network Star] is Food Network's biggest show–they purposely pick people they hope to continue relationships with.  Out of all the people who audition, the execs are looking for talent they can use later.  Think about it, Food Network needs programming and the fact that you even get cast means you're in the [Food Network] family.  I mean, look at the network–they need talent, they need edge, they need some new flavor.  You watch the channel and Chopped comes on for, like, 15 episodes back-to-back–they need some diversity.
TPP: Right.  It seems like every time I turn on Food Network, Bobby Flay is on.
MM: Exactly!  And I told them–I told Bobby–that they need someone like me on the network.
TPP: Justin Warner ended up winning Food Network Star.  Obviously, you wanted to win–but do you think he was the right choice?
MM: Umm…[pauses]…I think…I think–look, a lot of times, during those challenges, they put people in a position to make them look better than they really were.  Now he's an interesting cat–he's very witty and has a brain for food–but his culinary skills, to me, just aren't there.  But, from their perspective, he's interesting to watch and I think he's someone they can work with.  So, at the end of the day, I think they made the right choice.
TPP: You're a private chef, a consultant, a radio show host, and you have a line of spice blends.  What can we expect to see from Malcolm Mitchell in the future?
MM: Yeah, I'm working on my show called "No POV."
TPP: Seriously?
MM: I'm serious.  Absolutely.  [laughing] They gave me a new aspect to my brand on Food Network Star.  The concept of "No POV" will be focused on me cooking for my clients in my home kitchen, sitting around talking and laughing–you know, something really natural and in a social environment.  None of that "add 1 cup of this to 2 cups of that"–nah, that stuff's boring to me.  I want to do something true to myself.
TPP: Are you shopping the show around to any particular network?
MM: Right now, we're just concentrating on getting at least 6 episodes done and in the tank before shopping it around, but obviously I'm going to take it to Food Network when it's ready.  I'm not crazy.  I'm gonna take it to Bobby [Flay]; he's got a production company and I want him to take a look at it and have his people revamp it and try to get a production deal.  Anything he touches is golden, so if you can get your foot in the door with him and get it on Food Network, you're good.
Chef Malcolm Mitchell will be competing in the 2012 New Tang Dynasty Global Competition Series in Times Square (NYC) on September 27th.  For details, click here.
Photo courtesy of Chef Malcolm Mitchell