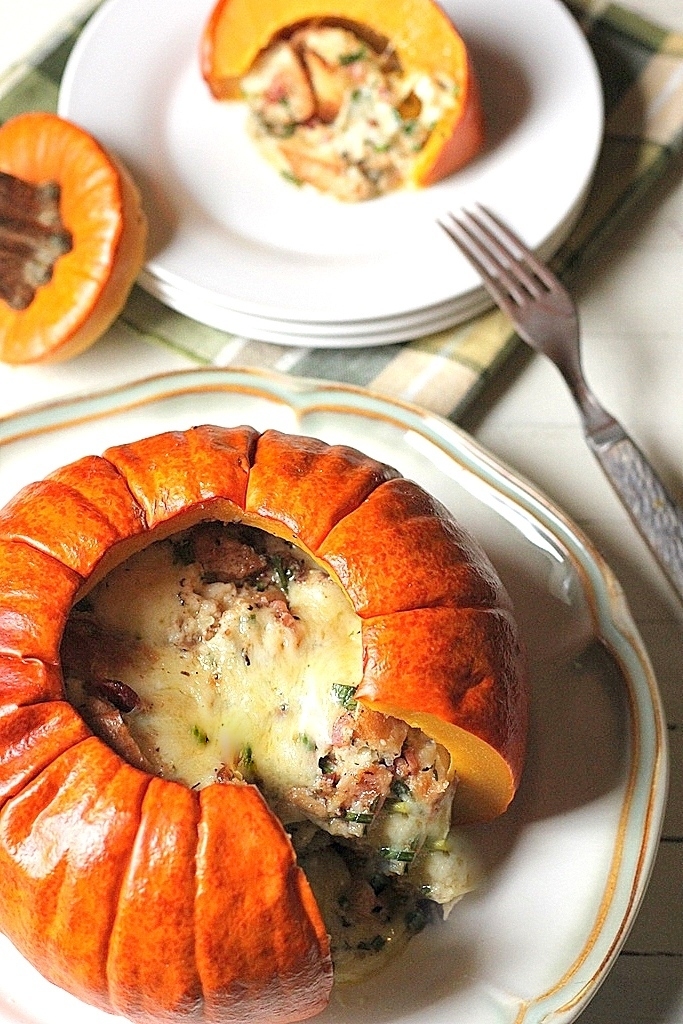 Like most food enthusiasts, I have more cookbooks than I can count but I rarely consult them. In my house, they serve more as coffee table and bookshelf decoration than useful tools. A couple of weeks ago, I was having a conversation with my friend Alan–a fellow foodie–and he mentioned that he and he his daughter were going to cook one of Dorie Greenspan's most famous recipes–a dish she simply calls Pumpkin Stuffed with Everything Good–from her book Around My French Table. It was at that moment that I realized I actually owned that cookbook; it had been sitting on my coffee table for over a year and, even though I've thumbed through it and swooned over the pictures, I had yet to cook anything from it.
For those who aren't familiar, Dorie–who divides her time between the US and France–is a French cuisine expert, author, and master baker. Her canon of best-selling cookbooks, including Around My French Table, are prized by professional chefs and home cooks alike. She is known for simple, flavorful rustic recipes and uncomplicated cooking techniques. Her Pumpkin Stuffed with Everything Good looks elegant when presented (especially on a holiday table) but is fairly simple to make. In fact, the most labor-intensive part is cleaning out the innards of the pumpkin.
Pumpkin Stuffed with Everything Good
Print recipe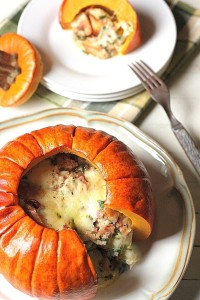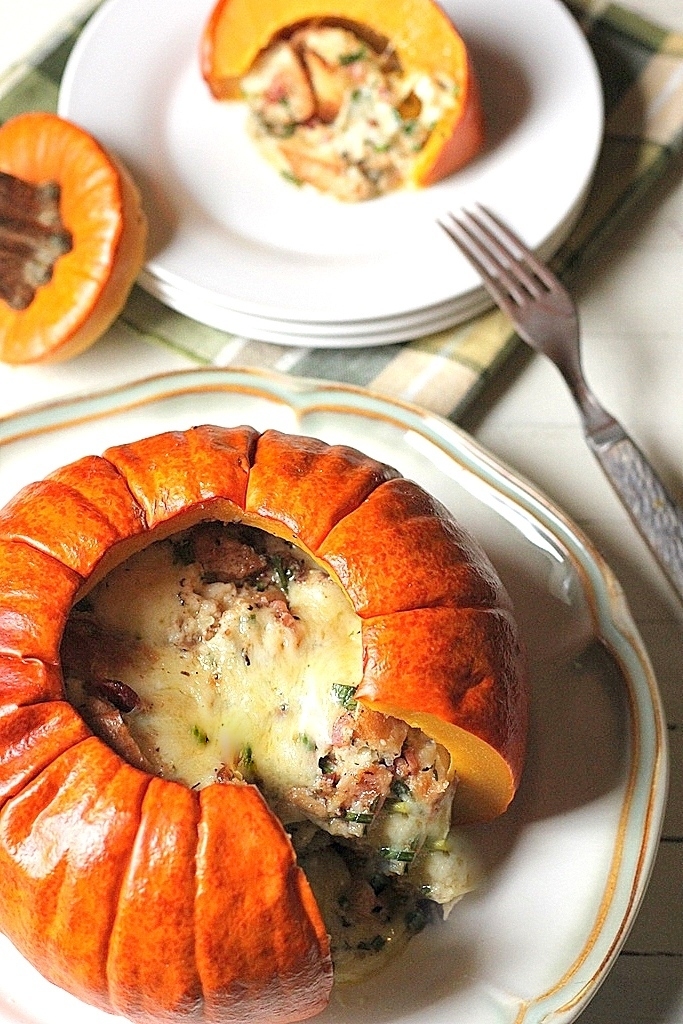 This recipe is from French cooking expert and baking whiz Dorie Greenspan; it has not been modified in any way and the original recipe can be found in her cookbook Around My French Table. Served in hearty portions (serves 2 generously or 4 modest portions) accompanied by a salad, the pumpkin is a perfect cold-weather meal; served in generous spoonsful, it is also right at home alongside holiday main courses.
Ingredients
1 Pumpkin (about 3 pounds)
Salt & freshly ground pepper
1/4lb Stale bread (thinly sliced and cut into 1/2-inch chunks)
1/4lb Cheese (such as Gruyere, Emmenthal, cheddar or a combination, cut into 1/2-inch chunks)
2 - 4 Garlic cloves (to taste, coarsely chopped)
4 thick slices Bacon (cooked until crisp, drained and chopped)
1/4 cup Snipped fresh chives or sliced scallions
1 tablespoon Fresh thyme (minced)
1/3 cup Heavy cream (plus 1 tablespoon)
pinch Freshly grated nutmeg
Directions
Baking notes
Step 1
Center a rack in the oven and preheat the oven to 350 degrees F. Line a baking sheet with a silicone baking mat or parchment, or find a Dutch oven with a diameter that's just a tiny bit larger than your pumpkin. If you bake the pumpkin in a casserole, it will keep its shape, but it might stick to the dish, so you'll have to serve it from the pot—which is a lovely rustic way to serve it. If you bake it on a baking sheet, you can present it free-standing, but maneuvering a heavy stuffed pumpkin with a softened shell isn't easy.

Preparation
Step 2
Using a very sturdy, sharp knife—and caution—cut a cap out of the top of the pumpkin (think Halloween jack o'lantern). You want to cut off enough of the top to make it easy for you to work inside the pumpkin. Scoop out the seeds and strings from the cap and from inside the pumpkin. Season the inside of the pumpkin generously with salt and pepper, and put it on the baking sheet or in the pot.
Step 3
Toss the bread, cheese, garlic, bacon, and herbs together in a bowl. Season with pepper—there is probably enough salt from the bacon and cheese, but taste to be sure—and tightly pack the mix into the pumpkin. The pumpkin should be well filled—you might have a little too much filling, or you might need to add to it (I had just enough to pack the pumpkin). Stir the cream with the nutmeg and some salt and pepper and pour it into the pumpkin. Again, you might have too much or too little—the ingredients shouldn't swim in the cream, but you do want them nicely moistened. (It's nearly impossible to get the recipe wrong.)

Step 4
Put the cap in place and bake the pumpkin for about 2 hours—check after 90 minutes—or until everything inside the pumpkin is bubbling and the flesh of the pumpkin is tender enough to be pierced easily with the tip of a knife. The pumpkin will excrete liquid during the baking process, so you should remove the cap during the last 20 minutes to allow the liquid can bake away and the top of the stuffing can brown a bit.
Serving
Step 5
When the pumpkin is ready, very carefully (it will be heavy, hot, and wobbly) bring it to the table or transfer it to a platter.
Step 6
You can either spoon out portions of the filling, making sure to get a generous amount of pumpkin into the spoonful, or you can slice the pumpkin into wedges (like a layer cake); serve immediately.
This is a reprint of Dorie Greenspan's Pumpkin Stuffed with Everything Good recipe; the photo is my own.