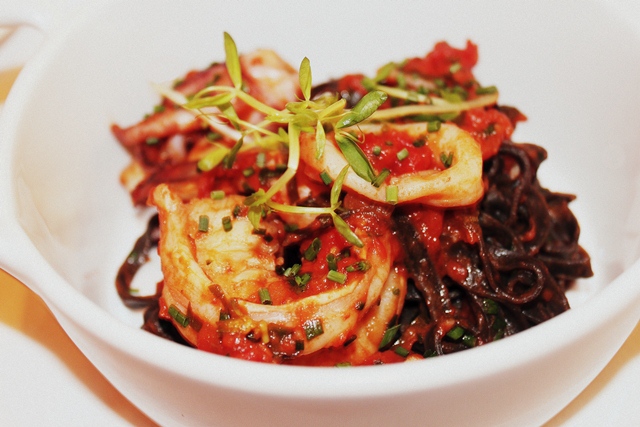 I was recently invited to take part in a media tasting at Valley Forge Casino Resort that featured a deftly prepared menu by Executive Chef Michael Inferrera (formerly of Philadelphia's Table 31).  The tasting highlighted the gaming hall's two fine dining establishments Viviano's and Pacific Prime both of which are helmed by Inferrera.  While Viviano's menu focuses on rustic Italian fare, the latter's menu is beef- and fish-centric.
The tasting menu featured a handful of dishes from each restaurant and showed a thoughtful focus on seasonal ingredients and a skillful yet restrained hand in execution.  The funny thing about multi-course meals is that there is almost always a standout–that one dish that sends your palate into overdrive and this tasting was no exception.  For me, the third course–a bowl of rich squid ink linguine adorned with calamari and shrimp in a reduced tomato sauce (a compote of sorts)–was not only delightful but it signified a milestone in my personal gustatory history.
It was not too long ago that I would not fathom eating anything that listed squid ink as one of its ingredients which excluded many traditional Spanish and Italian dishes from my repertoire, but as I stared at the inky black noodles bathed in that wonderful smelling sauce, I knew that the day had come to conquer my completely unfounded disdain for an ingredient I had never tasted.
The verdict?
The long wait was well worth it.
Valley Forge Casino Resort | 1160 First Avenue King of Prussia, PA 19406 | (610) 354-8118 | www.vfcasino.com