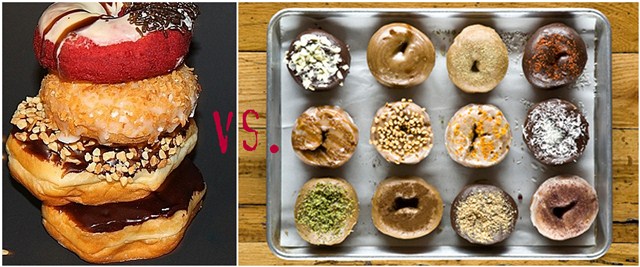 Federal Donuts picture (right): Courtesy of foobooz
First it was cake pops, then came the cupcake craze followed by that wretched phase of turning perfectly good food into lollipops.  (Hey chefs, I'm sick of seeing lamb "lollipops" and tiny, precious little chicken drumsticks frenched to Hell on your menus–enough already.)  Now it's the donut's turn to enjoy its 15 minutes of saturated fame.  As with most food trends, the culinary world has helped ignite the general public's interest–effectively elevating the humble donut to rock star status.
Of course, I'm being hypocritical because I have, on more than one several occasions stood in line upwards of one hour to snag some "fancies" at Federal Donuts, including its hectic opening day.  Crowds, hipsters jockeying for position, long wait times, people packed into the diminutive space like cattle–it's worth every damn minute.  You will never find a tastier, more outrageous donut in the city.  Ever.  But what about outside of the city?  I recently read an article about an untapped donut haven in Ambler that could quite possibly be the suburbs' answer to Federal Donuts.  Whaaaat?  I smelled a good ol' fashioned donut face-off brewing so I had to check it out for myself–all in the name of research, of course.
Ambler Donuts is situated across the street from a Dunkin' Donuts and it's big, shiny and new–arrogantly casting a shadow on its gas station/convenience store competitor.  I could totally imagine an 80s film being made about two rival donut bakeries and, in my head, it stars (who else) John Cusack and one of the young Coreys (Haim or Feldman, take your pick).  Speaking of the 80s, AD's owner Patrick Cathcart looks like every villainous boss in every 80s movie you've ever seen and he plays the part well.  I struck up a conversation and he asked if I was a writer (I had my camera with me) so I told him yes.  He replied, "Yeah.  Some other food writer from AOL was in here recently and was totally kissing our asses."
Umm…OK.  I wasn't there in an official capacity–I just wanted to try the donuts.
This guy was looking for some attention so I asked him about his donuts: What do you recommend? ("They're all good.  I mean, whaddya want me to tell you?)  What's the craziest flavor combo? ("Uh, probably French Toast.")  Are you a baker?  Do you make these yourself? ("Of course not.  I pay somebody to do that.  I don't get my hands dirty.")
At that point, I was completely turned off by this guy and was seriously contemplating jumping the counter–if he wasn't approximately the size of Governor Chris Christie.  I chose my donuts, calmed myself and was in the process of paying when he crossed the line.
"I went down to Federal Donuts on Tuesday and they're horrible.  The donuts are greasy and it's because they don't get their oil hot enough.  I don't understand the hype."
Now I know business owners aren't supposed to fawn over their competition, but this guy made my blood boil.  Suddenly, I felt like Patrick Swayze in Dirty Dancing.  Nobody puts FedNuts in a corner.
A stream of expletives leapt to mind, insults and comebacks galore; but I thought better of it.  I'll let Mr. Cathcart's sub-par, way-too-sweet confections speak for themselves because, quite frankly sir, on its worst day, Federal Donuts' banana/caramel, raspberry/balsamic, grapefruit/brown sugar donuts would kick your lineup's sweet little ass.
Ambler Donuts' Run-Down (donuts pictured above on left):
Red velvet – Dense, dry and stale (Ambler Donuts touts a twice-a-day-baking rule to avoid stale donuts–maybe my donut was a fluke.)
Toasted coconut – See above
Chocolate peanut – The best of the bunch; soft, nice flavor and the peanuts were a nice textural touch.
Boston cream – Not too bad; average