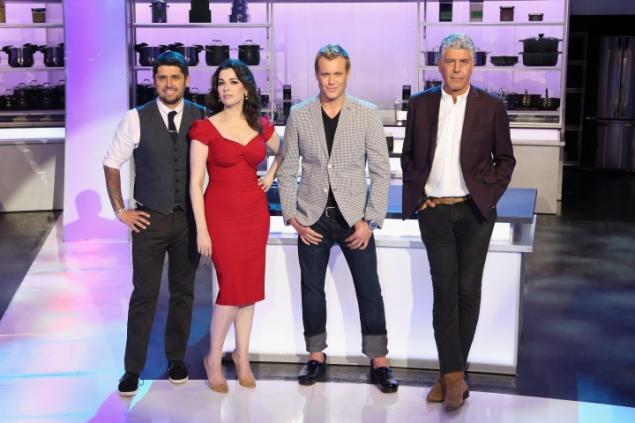 I hope Nigella Lawson, Ludo Lefebvre, Brian Malarkey (what an appropriate surname), and Anthony Bourdain are proud of themselves.  The rather accomplished quartet is just the latest group of culinary pros to conspire with a major television network to craft undoubtedly one of the most insipid reality/game shows in history.
With what could be called an abysmal choice of programming, last night ABC aired its premiere episode of The Taste–a weird, confounding culinary game show in which a panel of esteemed judges blind taste contestants' one-bite concoctions and decide whether to keep them or tell them to pack their knives and go. (Sorry, wrong show.)  The motley pool of contestants is comprised of home cooks, food bloggers, professional chefs, and people who should never be near a kitchen.  Seriously, ever.  (Spoiler alert: one Capoeira-obsessed contestant made a pineapple, maitake, ground turkey mac and cheese that brought the judges to the brink of vomiting and–to give you a sense of the depth of the show's talent pool–this guy is a professional chef.)
When presenting their amuse bouche-sized portions to the judges, contestants are hidden behind a flimsy, sliding glass door that looks like it could have doubled as a teleportation device in a 1960s episode of Star Trek.  Deliberation ensues as the judges reach under their desks to employ their sophisticated voting devices (read: big green and red 'yes' or 'no' buttons).  The poor souls are revealed and then have to stand before the panel to explain what crap ingredients are in their dish.  This is where it gets really interesting.
The purpose of the show is two-tiered: Contestants compete against each other in order to get selected to join the team of one of the "mentors" (i.e. judges).  Once the teams are established, the mentors essentially compete against each other to determine whose team shows the greatest culinary prowess.
At least that's what viewers are led to believe.  In actuality, the rules are confusing and every time a contestant's food is deemed "amazing," "delicious," or "restaurant worthy," it is assumed that the hopeful will be selected for one of the judges' teams.  Wrong.
What makes this show horrible (other than the entire concept and the faux agonizing deliberations) is the way in which the judges gush over a contestant's delicious food and say something like, "Oh, I'm going to regret this.  I just know it" right before summarily dismissing the contestant.
Wait. What?
On more than one occasion, Bourdain kicks himself for choosing to send a seemingly awesome contestant packing while Lawson–whose role seems to be that of an English Paula Abdul–apologizes profusely to the shattered cook before proceeding to self-flagellate over her decision to dismiss.  Ludo Lefebvre, cast as the French asshole (redundant, no?), is perhaps the worst–he lavishes praise and proffers a few unintelligible bon mots (and job offers) before plunging his dagger.  Then there's Brian Malarkey–a former Top Chef contestant and restaurateur whose purpose is yet unknown–who seems to be an incongruent choice.  At least his compatriots are well-known and accomplished–not to mention relevant.
One can only hope that this show is only afforded one season.  I don't know how many culinary cluster-you-know-whats ABC intends on churning out (ahem, The Chew) but this one really leaves a bad taste in my mouth.
Photo courtesy of NY Daily News