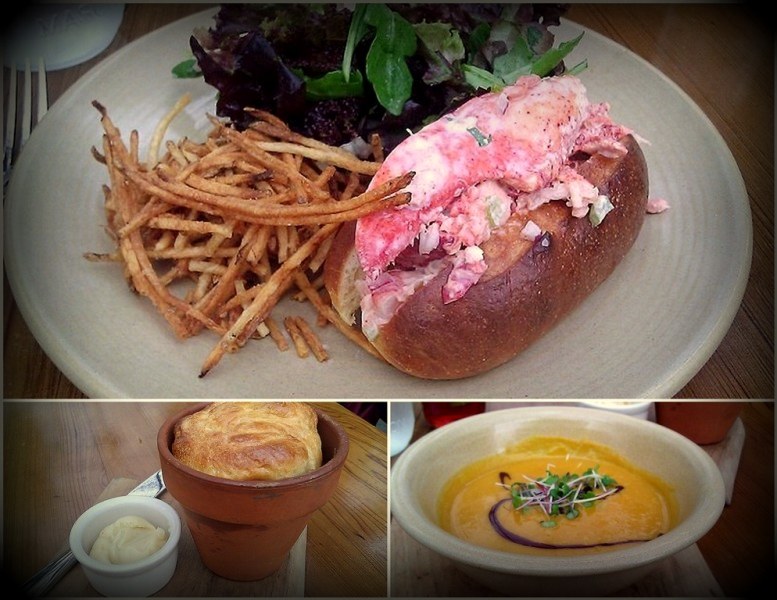 Imagine a world in which dining in giant terrariums was the norm and elves and wood nymphs crafted magical meals and you'd come pretty close to describing the enchanted atmosphere of Styer's Garden Cafe.
Singularly focused on seasonal and local dining, Styer's is tucked away in the far corner of Terrain–a massive, posh garden/home goods center in Glen Mills, PA.  Overflowing with foliage of all sorts, the lush greenhouse has a cozy, romantic feel and makes even a routine lunch a memorable experience.  The staff at Styer's leaves no stone unturned and no detail to chance–from the whimsical terra cotta bread pots (which are nothing short of genius) and mason jar drinking glasses right down to the check presentation (the bill is presented in a used library book), it all works.  There's a fine line between contrived and authentic and Styer's tends to err on the side of the latter; there's a real sense of authenticity, a sort of straightforward 'down-homeyness' that puts you at ease almost immediately.
Then there's the food.
Though the menu is updated frequently to accomodate availability and the changing seasons, the taste and quality remain perfectly consistent, virtually every dish on the succinct menu is a stunner.  Locally-sourced produce and meat are offered a starring role on the menu as is the darling of Kennett Square–the mushroom.  A warming bowl of rich, hearty butternut squash soup with a drizzle of pumpkin oil is the perfect starter to a tarragon-laced lobster roll that, daresay, rivals anything you'd find in New England.  Chestnut gnocchi and those famous Kennett Square mushrooms are tossed with roasted salsify and an orange-scented butter and even meat-eaters will swoon over the roasted, fig and port chutney-topped Camembert tartine with fingerling potatoes.
A meal at Styer's is, perhaps, the closest one can get to dining perfection and the promise of an ever-changing, seasonal menu brings with it the hope that every meal will be as memorable as the last.