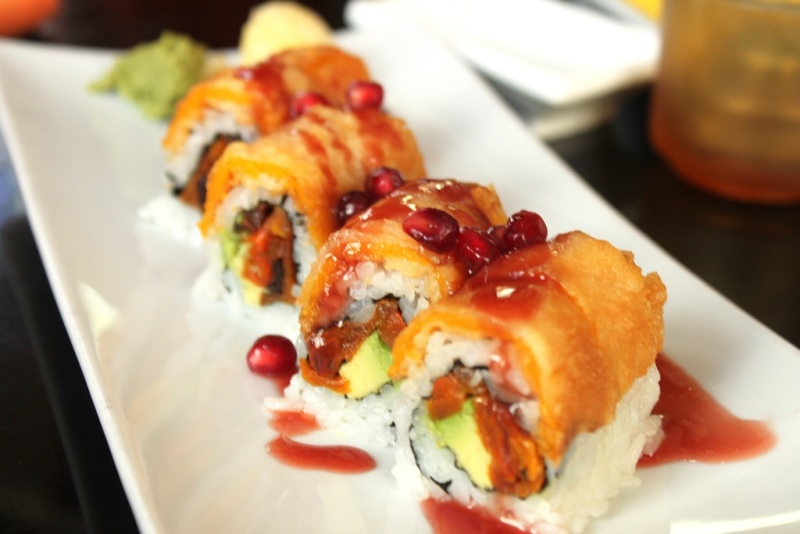 Underneath a crisp sheath of pomegranate-glazed tempura pumpkin, a mélange of roasted pumpkin, avocado, and sushi rice come together in this seasonal roll. 
Nectar–the Main Line's French-Asian fusion monolith–is just as much about numbers as it is about food.  From the billowy 18-foot silkscreen Buddha tapestry that towers over the cavernous 200-seat dining room to the $5 million David Rockwell-designed interior, the restaurant evokes a sexy, cosmopolitan air sorely missing from the suburban dining landscape–especially that of the Main Line's.  It is both surprising and disappointing that the tony area's affluence and assumed sophistication has yielded one of the most barren restaurant wastelands in the region, though staples like Nectar and Georges Perrier's eponymous casual concept Georges'  along with newcomers like Michael Solomonov's Citron and Rose and The St. James from notable chef Michael Schulson, offer a glimmer of hope.
Admittedly, I approach fusion menus with a fair amount of skepticism as they are usually as successful as the flight of the Hindenburg, but Nectar's menu is so thoughtfully crafted and well-executed that all doubt is erased.  As a precursor to heartier mains, the seasonal pumpkin roll (pictured above) hits on all notes as did the pillow-soft bao (buns) with tender, hoisin-glazed pork.  Though a traditional and artistic sushi bar will satisfy purists, the real excitement lies in executive chef Patrick Feury's hybrid menu of Pan-Asian and French dishes.  Stunners like lobster dumplings atop a silken red kuri Japanese pumpkin velouté and roasted foie gras with black truffles and sushi rice reveal Feury's deft hand at bringing together not only fresh ingredients but successfully fusing two decidedly different cuisines.