heir·loom/ˈe(ə)rˌlo͞om/ – noun: A valuable object that has belonged to a family for several generations.
With
Heirloom
, veteran chef Al Paris and proprietor Robert Bynum (of Warmdaddy's and Relish fame) bring upscale comfort
food to the quaint neighborhood of Chestnut Hill.  At the 50-seat BYOB, the menu reveals a thoughtful focus on seasonal, local produce and true American ingredients as evidenced in dishes like a lightly dressed beet and walnut salad paired with a chèvre croquette and meltingly tender smoked pulled chicken atop an airy biscuit in a delightful cumin-scented broth.
A self-proclaimed cookbook antiquarian, Paris admits to having lost count of the number of vintage cookbooks in his vast 30 year-old collection.  He may have lost count, but the influence of yesteryear's recipes manifests itself as an edited menu of reconfigured American classics that borrow from the South, New England and even the Midwest.  Heirloom's dinner menu offers a trek across the country–shrimp and scallop purloo with tasso ham and gold rice is a nod to South Carolina's Low Country while the lamb porterhouse with red chile-spiked glaze celebrates the big, bold flavors of the West.
Sunday brunch presents the same focus on seasonal ingredients with a menu of familiar staples with Paris' signature twists.  Traditional eggs Benedict get an appetizing makeover with crabcakes and a piquant Hollandaise.  Humble Brussels sprouts are simply sautéed with diced bacon and grapes and elevated to something no less than revelatory.  Confections are reimagined here, with the chef indulging his whimsical (and trendy) side with a chocolate-glazed donut with a smear of cherry syrup.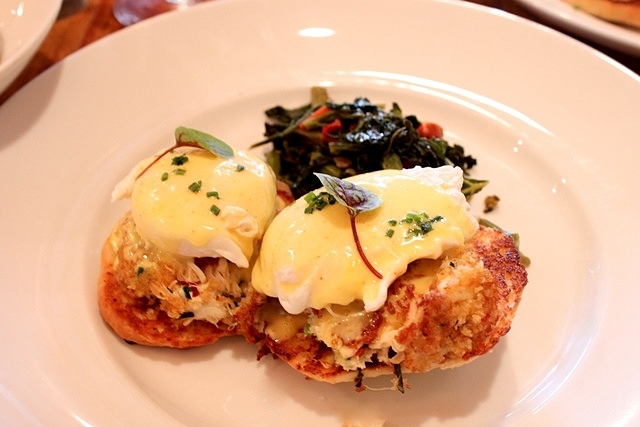 Expect the menu to change at the chef's whim and the season.  While there have already been a few menu tweaks, the one thing that will remain constant is Al Paris' commitment to reviving traditional American cuisine and preserving cooking techniques that have, often times, gotten lost in the shuffle of today's innovation.
Note: Heirloom will be featured in Food Lovers' Guide to Philadelphia along with one of Chef Al Paris' vintage spoonbread recipe.  Click here to pre-order the book on Amazon.
Heirloom Fine American Cookery | 8705 Germantown Ave. Philadelphia, PA 19118 | (215) 242-2700