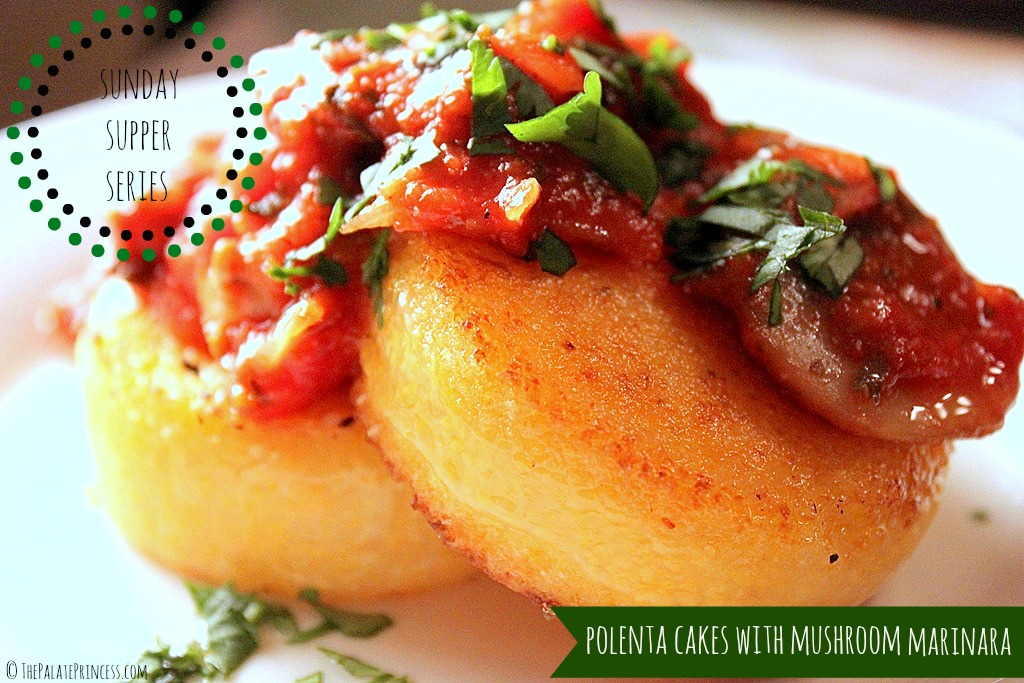 Remember when Sundays were all about whipping up a late-night Italian dinner, putting your phone on silent, ignoring all your friends and family for an hour and plopping down in front of the TV to watch The Sopranos? Come on, I can't be the only one who had a ritual like this. Sure, the show's intricate plots and emotional and familial revelations were intriguing but didn't you love how the food–oh, that glorious food–played such a huge role in the show? Sausage and pepper sandwiches from Satriale's. Dinner at Artie Bucco's Vesuvio. Carmella using a ricotta and pineapple pie as a bribe. The list goes on and on.
I've been missing this guy like crazy and I'll always remember him for making my Sunday nights (and my Sunday dinners) something to look forward to.
Polenta Cakes with Mushroom Marinara
Print recipe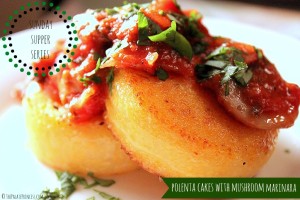 Ingredients
1 - 18 oz. Prepared polenta roll
3 cups Mixed mushrooms (such as button, cremini, shiitake)
3 tablespoons Extra-virgin olive oil
2 tablespoons Unsalted butter
1/4 cup Onion (finely chopped)
3 cloves Garlic (minced)
1 - 28 oz. can San Marzano tomatoes (hand-crushed; do not discard liquid)
1/4 cup Fresh basil (chopped)
Salt & freshly ground pepper (to taste)
Shaved parmigiano reggiano (optional)
Directions
For Mushrooms
Step 1
In a sauté pan over a medium flame, heat 1 tablespoon olive oil and 2 tablespoons of butter; slice mushrooms. When butter has melted, add mushrooms to pan and cook without flipping for approximately 3 - 4 minutes. Mushrooms should be toasty; flip and cook on other side for another 3- 4 minutes. Remove and set aside.
For Marinara
Step 2
* It's wise to make the marinara first and allow to simmer while you sear the polenta cakes.

In medium saucepan, heat oil over medium flame. Add onion; sauté until onion is translucent, approximately 1 minute. Add garlic; gently brown for 1 minute. Pour in tomatoes and sautéed mushrooms and season with salt and pepper to your liking; stir well. Cover and let simmer for 20 minutes or until desired thickness is achieved. Remove from heat; add basil and mix well.
For Polenta
Step 3
* When using prepared polenta rolls, remember to drain liquid and dry thoroughly after removing from packaging.

Heat 2 tablespoons of olive oil in a sauté pan over medium-high heat. Slice polenta into 1/2-inch thick rounds; approximately 10 slices. When the oil is shimmering (but not smoking), carefully lay the polenta slices in the pan. You can cook up to 5 at a time; it's best not to crowd the skillet. Sear the polenta for 3 - 4 minutes on each side, or until crispy.

Remove to a plate and top with mushroom marinara and shaved parmesan (optional).