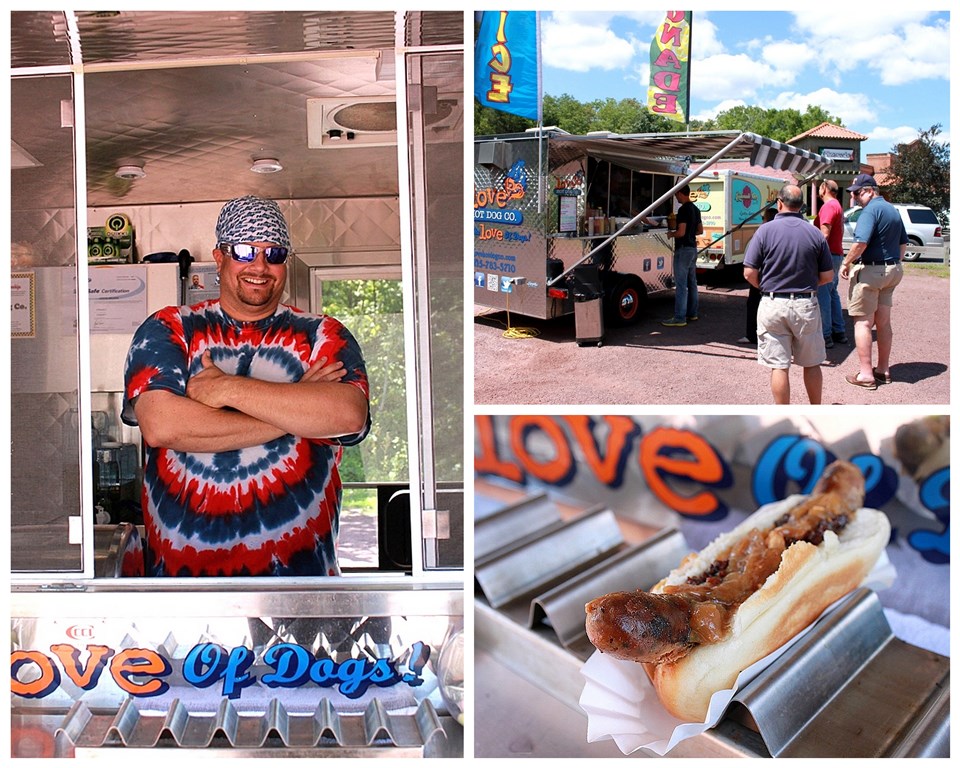 From clockwise: A line of hungry hot dog lovers, chorizo sausage with housemade bacon jam and caramelized sweet onions, owner Jason Brown
All my sausages are locally-sourced and I'm proud of that. They're specially made for us in New Jersey and Pottstown." – Jason Brown, Owner of Love Hot Dog Company, The Lemonade Bros., & Chill Trike
I have a confession: I'm not a hot dog lover. If I'm honest, I only eat them when I go to a baseball game (read: once in a blue moon). But I recently met a man who changed my view on one of America's favorite foods.
His name is Jason Brown and he's a character as colorful as his trademark tie-dyed shirts and his culinary creativity knows no bounds as evidenced by his rotating menu of "exotics" (aka fancy hot dogs) at his Skippack-based food truck Love Hot Dog Company. It's not often that the words 'Skippack' and 'exotic' are in the same sentence but Brown's adventurous spirit has rubbed off on the good folks of the quaint, sleepy village. On any given day, lunchers descend on the food truck–many asking for the infamous alligator andouille sausage–curious to see what creations Brown has concocted for the day. Though traditionalists will appreciate the more tame Vienna beef hot dogs, the real excitement lies in the more creative menu offerings like the venison, blueberry and merlot sausage and chorizo, bacon jam and caramelized onion hot dog.
In addition to his mobile food truck, Brown operates two businesses, The Lemonade Bros. and Chill Trike, with his 7- and 10-year old sons. Yes, that's right–his two business partners can't even see a PG-13 movie but that's alright with this proud dad who operates his sons' businesses during the school year while they focus on their academics, but you can find the trio selling lemonade and cold treats on the weekends at local outings and sports events.
If you think Jason Brown's the least bit interested in taking it easy and resting on his laurels, think again. He caters and does private events and he's got a grilled cheese and a burger concept in the works and, believe me, after hearing some of his Willy Wonka-esque mash-up ideas–think cheese-stuffed, bacon-wrapped burgers and dessert grilled cheese sandwiches–he's not slowing down at all.
Love Hot Dog Company
Time: Monday – Friday, 10 AM to 3 PM (some items sell out early)
Occasional Saturdays & Sundays; check their
Facebook page.
Location: 4112 Skippack Pike; same lot as the Farmer's Market of Skippack (across from WaWa, next to Chiaro's Pizza)
Contact: (215) 783-5710; info@lovehotdogco.com