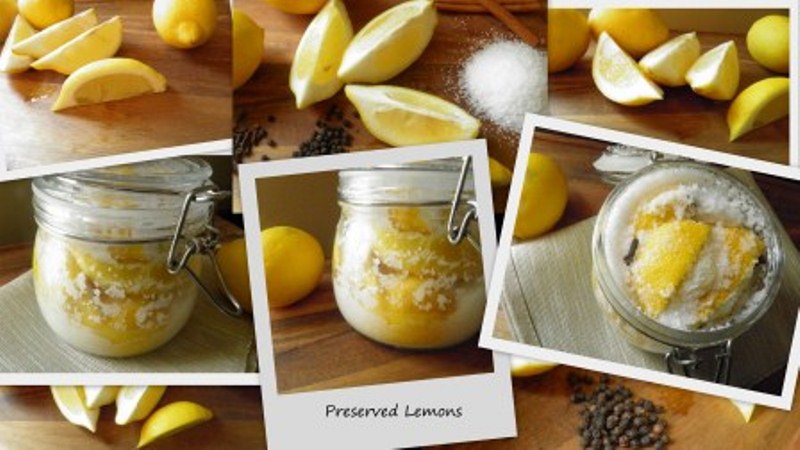 I'm not going to lie, I first started thinking of preserving lemons while watching an episode of…(wait for it)…Real Housewives of New York.  Other than Countess LuAnn's
near-death experience
with a camel, I found not a shred of hilarity in that Moroccan episode.  These catty women were in one of the most beauftiful, exotic countries in the world and no one gave a flying you-know-what about the culture and, most of all, its food.
Situated in northern Africa, Moroccan cuisine has been heavily influenced by its dealings with other countries and cultures.  Traces of Berber, Arab, Moorish, and Mediterranean cultures can be found woven through Morocco's culinary fabric.  Homegrown staples like saffron, mint, olives, oranges, and lemons are common in everyday dishes and find themselves in slow-cooked tagines, lamb dishes, and couscous.
Years ago, I used to visit a little Moroccan restaurant that served the best couscous salad with mint, preserved lemons, and currants.  Sadly, the place closed and I've been longing for that salad ever since.  However, I won't be making it for a while because it takes these lemons a few weeks to preserve.  Oh, the anticipation.
Preserved Lemons
Ingredients:
6-8 lemons, scrubbed well (Although I used regular lemons, Meyer lemons work best because of their thin skin.)
Kosher salt
1 cinnamon stick
½ tsp cloves
½ tsp black peppercorns
Extra fresh-squeezed lemon juice, if needed
Preparation:
Place 2 tbsp of kosher salt in the bottom of a sterilized jar. Cut off any protruding stems from the lemons, and cut off the tip of each lemon.  Quarter each lemon.
Pack the lemons in the jar in alternating salt/lemons/spices layers, squishing them down so that juice is extracted and the lemon juice rises to the top of the jar; add cinnamon stick.  Fill up the jar with lemons, make sure the top is covered with lemon juice.  Add more fresh squeezed lemon juice if necessary.  Top with a couple of tablespoons of salt.
Seal the jar and let sit at room temperature for a couple days.  Turn the jar upside down ocassionally; always making sure the lemons are covered with lemon juice.  Put in refrigerator and let sit, again turning upside down occasionally, for at least 3 weeks, until lemon rinds soften.
To use, remove a lemon from the jar and rinse thoroughly in water to remove salt.  Discard seeds and spices before using.  Discard the pulp before using, if desired.
/
The lemons can be stored in the refrigerator for up to 6 months.