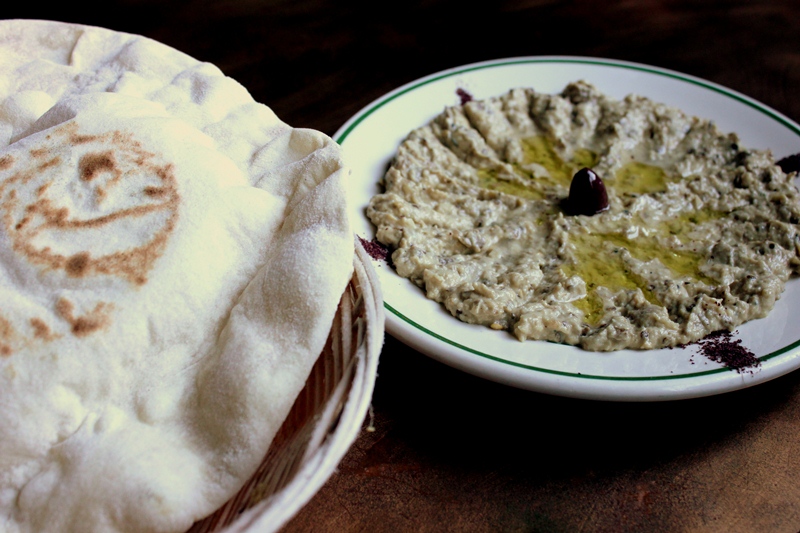 New Hope, PA and Lambertville, NJ, often spoken about as if they are one town due to their almost indistinguishable separation by the Delaware River, are popular tourist destinations–which, in turn, makes them tourist traps.  The towns are teeming with cafés, coffee shops, restaurants, ice cream parlors, B&Bs and a host of knick-knack and clothing stores.  While both towns make great day-trip destinations, the culinary landscape is pretty one-note.  In other words, the dining scene lacks–well, flavor.  That is, until you mistakenly turn down the wrong street in Lambertville (guilty) and find yourself face-to-face with a non-descript little brick building known formally as Marhaba but to those in the know as "that little place with the best babaghanoush".
One look at the dark, spartan environs with Berber rugs adorning the walls coupled with a lone hookah in a place of prominence on a ledge by the open kitchen and you wonder if you might have wandered into a Bedouin tent in the middle of the desert.  What makes Marhaba special, besides the fact that it's the only Middle Eastern restaurant in Lambertville, is the simplistic beauty and authenticity of its food.  There is a special cook whose sole duty is to make pita–talk about artisanal.
Smoky, garlicky babaghanoush gets a lift from za'atar (a blend of spices, herbs and salt that is often a staple in Middle Eastern cuisine) and is topped off with a drizzle of fruity olive oil and a single briny olive; warm pitas are puffy with just the right amount of char.  A traditional fattoush salad serves as a nice foil to the spice-heavy menu.  However, the dense, dry falafel fall short of the expectations of those of us who are used to snagging falafel on the go from a number of food carts/trucks in Philadelphia; the spiced rice in the stuffed grape leaves are a welcome change from, say, Greek or Italian preparations but is too undercooked to be a contender.
All things considered, Marhaba is still a welcomed change to the sometimes cookie-cutter culinary scene of downtown Lambertville and serves as a confirmation that sometimes it's good to turn off the GPS and let yourself get lost once in a while.  You never know what you may discover.